Pimcore vs. SolidPepper: Which PIM system should you choose?
Last updated on 26 January, 2022
8 min read
You're in search of a reliable PIM system to help your marketing, sales, and product teams? You've come to the right place.
In this comparison, you'll learn everything essential about Pimcore vs. SolidPepper and make the decision on your next platform a lot easier.
Pimcore and SolidPepper can both be used for product information management purposes, but they differ greatly.
Let's jump right into the article and go through all the differences and similarities.
What is product information management (PIM)?
First, let's revise the definition of product information management systems and their purpose in everyday business operations.
The product information management (PIM) system provides your business with accurate and up-to-date product data. It centralizes all of the product data in a single location, making it easy to access and distribute wherever it's needed.
To start, PIM needs to be connected with the existing data sources such as existing ERP and CRM systems. Once the data has been gathered in PIM, it undergoes a certain process of transformation - all of the data is translated, enriched, and maintained.
Finally, once the data has been transformed, the PIM system helps you distribute the data through any communication channels of your preference.
The primary benefits of PIM systems generally include improved customer experience (as there is no miscommunication in the product information), time efficiency, and cost savings.
If you're running an eCommerce business or you're looking to start one, the PIM system may be one of your best options for successfully handling all your data. And handling thousands of product data entries is no small task.
Globally, the sheer volume of data has been on the constant rise, and using various tools and platforms to help manage all of the data has become a necessity.
Let's talk in more detail about two PIM platforms we'll be comparing today - Pimcore and SolidPepper!
What is Pimcore?
Pimcore is an open-source digital experience platform capable of managing all of your digital data, processes, and experiences.
Pimcore provides its users with 6 different modules (systems) in all of its editions, enabling them to manage all data, execute all campaigns and activities, and monitor and modify every single business process.
Its 6 modules are; product information management, master data management, digital asset management, customer data platform, web content management, and eCommerce.
Whatever kind of business need arises, Pimcore is one of the few platforms that can easily offer a solution, thanks to its wide range of features and unparalleled customizability.
So, if you're looking to optimize your entire business processes, successfully manage unlimited amounts of data, and replace your existing inefficient systems with a single powerful platform, Pimcore may be the platform for you.
And how exactly does the user interface look like? Here's a video from Pimcore's official YouTube channel.
Also, be sure to visit our YouTube channel and find a few more useful videos on Pimcore and its vast features. Something like this tutorial below!
On the other side of the ring, we have SolidPepper.
What is SolidPepper?
Same as Pimcore, SolidPepper is a product information management system designed for marketers, sales teams, product teams, translators, and IT departments.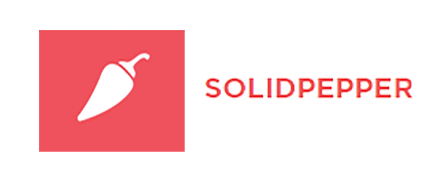 SolidPepper enables its users to manage product data, digital assets, create web-to-print catalogs, and publish content on their connected eCommerce platforms. The aim of SolidPepper is to provide a wide range of features to its users and ensure they can handle multiple aspects of their business using a single all-in-one platform.
Similar to Pimcore, SolidPepper enables the utilization of workflow management tools and even eCommerce store creation features.
Thanks to its widespread feature set, SolidPepper sets itself apart from the competition, but platforms such as Pimcore are still some of its greatest competitors. Both platforms focus heavily on data governance, content management, and digital asset management, but there are some notable differences.
SolidPepper does have some of the tutorials on their YouTube channel so be sure to check them out to get familiar with the user interface and some of the workflows!
Let's put these two platforms together for a side-by-side comparison!
Pimcore vs. SolidPepper - the comparison
Even though Pimcore and SolidPepper are both useful PIM platforms, there are some differences we'd like to point out.
Every company is unique and its needs in terms of software can vary greatly. For instance, if you're running a larger eCommerce company and fighting an uphill battle with tons of data, you may gravitate more towards Pimcore as the ultimate data management platform.
On the other hand, you can choose SolidPepper as your PIM platform if you're not exactly in need of software as comprehensive as Pimcore.
SolidPepper does offer a lot of product information management features, along with some crucial features for kickstarting an eCommerce store, but there are several areas in which it lags behind Pimcore.
Think of these systems as long-term investments. Both of these platforms will continue to evolve according to their own plans and product roadmaps, and it's up to you to make a decision on which platform can provide you with the best products and support.
This comparison should be one of your main reference points when exploring more on this topic, so make sure you read more in detail about each of these companies.
Nevertheless, let's take a look at what similarities and differences are there between Pimcore and SolidPepper.
Both Pimcore and SolidPepper enable you to:
Centralize product data
Establish collaborative workflows
Create web-to-print catalogs
Enrich and translate product data
Personalize and manage your eCommerce store
And this is where similarities between Pimcore and SolidPepper stop. SolidPepper is a fairly simple platform, enabling its customers to start managing their product data efficiently on a smaller scale.
On the other hand, if you're working on a complex project and your company is handling larger quantities of data (or if there are just many different processes, workflows, and systems already in place), Pimcore may seem like a much better option.
Here's an easily digestible list of features specific to Pimcore and its PIM system:
Creation of printable PDF product cards
Built-in photo editor at disposal
Scheduling and automating product publishing process
Product data syndication
Product feed management
Marketplace integrations for easy order tracking
Automation of print processes
Product experience portals for sharing and searching product information
Built-in advanced SEO management dashboard
A complex pricing rules engine for eCommerce
Endless on-site customization
Product recommendations
Advanced inventory management
Powerful content personalization capabilities
High level of connectivity with any other platform or a tool
As seen above, Pimcore is a much more complex platform with a remarkably wide arsenal of features. It's been developed primarily as a framework, making it possible to adopt and apply Pimcore in almost any business environment.
Being open-source, Pimcore has successfully cultivated a huge community of experienced developers who are continuously working on new improvements to the platform.
Contrarily, SolidPepper is a closed-source platform, meaning that the entirety of the platform development and advancement is in the hands of the SolidPepper team.
If you're not fully familiar with closed-source and open-source, here's a short video explaining the main differences.
Now, let's look at the Pimcore vs. SolidPepper comparison from a different angle.
What's the difference between Pimcore and SolidPepper?
In essence, if you're looking for a platform that can help you with almost any business problem you may face, Pimcore will most probably be your ideal solution. From importing, managing, and distributing product data, vendor data, customer data, digital assets, and much more to personalizing and executing your marketing campaigns - Pimcore can easily handle all of it.
Even though SolidPepper is marketed as an all-in-one solution, it hardly is due to its lack of necessary features for the modern business of 2022.
SolidPepper does indeed offer a specific feature set that can help you manage your products, personalize your eCommerce store, manage collaborative workflows, and even create printable product catalogs, but a great deal of must-have features is missing.
It doesn't include any advanced data management features and its content management capabilities are subpar to Pimcore's. Also, the target market of Pimcore and SolidPepper differs.
SolidPepper has a lot more user base in the small business sector than Pimcore, which explains the simplicity of the platform in terms of available features.
On the other hand, each of the 6 systems Pimcore offers its customers can function as a standalone system. Meaning that if you're in need of only a customer data platform or a digital asset management system, you'll find that your needs are easily met.
Still, you can use all of these 6 systems in a grand combination, allowing for full control over all your data. And that's a huge claim.
So, if you're managing a small business, or looking for an entry-level PIM system to kickstart your product management efforts, SolidPepper may seem like an attractive opportunity.
There are still some differences between Pimcore and SolidPepper we should discuss.
You're doing business in the international market? In that case, SolidPepper may not be an ideal solution for you. It supports English and French languages, while Pimcore provides support for 11 widespread languages.
Additionally, there is a stunningly low amount of information available on SolidPepper's integrations and technology behind the platform. And that's not the case with Pimcore. All of the needed information is adequately documented and customers can gain an incredibly deep insight into Pimcore's technology and truly understand what's "happening under the hood".
Take into consideration that your company handles much more than product data. Customer data, vendor data, and partner data are incredibly important factors that simply need to be controlled, standardized, and made accessible to all your teams.
Data silos are one of the biggest problems of modern business and Pimcore is one of the most efficient platforms for eliminating them and granting you full control over data, making them easily accessible and transparent.
SolidPepper as a platform doesn't have the power to make data management possible at this scale, while Pimcore offers systems such as MDM, CDP, and PIM as only a portion of their entire offering.
As we move forward with this comparison, it's easy to conclude that Pimcore is a superior PIM platform to SolidPepper on many grounds, but we still have to compare them based on their pricing and availability!
Pimcore vs. SolidPepper - the pricing comparison
SolidPepper is one of the platforms that offer a straightforward pricing structure with three different pricing plans available.
SolidPepper's Open plan starts at 250€/month, providing support for 2 languages and creating a collaborative digital environment for 3 users. This translates into 3000€/year plus any additional costs of other needed systems and resources.
The next, Vision plan, starts at 550€/month, or 6000€/year if you'd like to know the annual cost from the start. It offers a bit more - more users, more storage, and more supported languages.
Even though it's not listed on SolidPepper's official website, the premium Harmony plan starts at around 1000€/month. Not much information is disclosed on SolidPepper's premium plan and the smartest move here would be to simply directly contact SolidPepper before you make a final decision on your pricing plan.
Pimcore, on the other hand, comes in 3 editions - a free Community Edition, a paid Enterprise Edition, and a premium Unlimited Edition.
If you're aiming to cut costs on your subscriptions and licenses, Pimcore's free Community Edition may just be your best option. There are no hidden costs but take into account that you'll need help from a reliable development partner to build your entire solution.
Even though it's free, you'll have an incredible amount of features at your disposal, allowing you to successfully manage all enterprise-level needs with its 6 powerful systems.
But if you choose to go with the paid Enterprise Edition of Pimcore, the costs start at around €19,200/year.
And if you'd like to know more about Pimcore's Community and Enterprise Editions, check out the full and transparent comparison on their official website.
Finally, there's an Unlimited Edition. One of the huge differences between the Enterprise and Unlimited Edition is - the unlimited installations. Also, there are a few more perks that can make working with Pimcore much easier in terms of support.
Whatever the cost, always seek the get the most out of your initial investment. Compare the number and quality of features and take costs into account. Look at the benefits, the amount, and quality of platform documentation.
Also, be sure to check some of the notable projects built with these platforms. It's always useful to see exactly how other companies used these platforms to maximize their results.
Pimcore vs. SolidPepper - which PIM platform comes out as the winner of this comparison?
With all of the information we've just gone through taken into consideration, it's easy to see which platform has the higher ground in this comparison.
We can confidently say that Pimcore as a platform brings much more to the table than SolidPepper, in terms of features, support, pricing, connectivity, technology, documentation, and more. It indeed is a future-proof platform that allows every business to customize their Pimcore installation however needed.
And even though both Pimcore and SolidPepper are categorized as PIM platforms, Pimcore is much more than a PIM platform, with PIM being just one of its 6 core systems.
To tie all this together - if you're managing a complex project, or you're looking to increase efficiency in your enterprise-level company, Pimcore is your go-to solution.
But if you're managing product data on a smaller scale and you're not in need of some high-end features that can support your business in ways you didn't even think about, SolidPepper may be a better choice for you. With its arsenal of essential PIM features, as well as web-to-print and some level of content management - you'll find it a great platform to start with.
All in all, every business idea is unique and requires different resources to succeed. We'd like to see your idea succeed and turn into a profitable project - and we offer you our help.
We're one of the few Pimcore Gold partners, with several teams of experienced Pimcore developers and consultants. We've taken care of numerous Pimcore projects and worked together with some of the world's most successful businesses - and we'd like to work with you too!
Reach out to us and let's talk about how we can help your business grow!
Pimcore vs. Competitors
You'd like to know how Pimcore compares to the rest of its competitors?
Here are a few comparisons you may find useful:
This guide is part of the category, read more on
Looking for Exponential Growth? Let's Get Started.