Pimcore vs. Salsify: How to choose the best PIM system
Last updated on 26 January, 2022
8 min read
You're searching for a PIM platform to help manage your product data? In that case, you've probably heard of Pimcore and Salsify, two hugely popular product information management platforms.
Making a decision on which PIM system to implement is hard. There are many factors to be taken into account, and it's time-consuming to search for all the necessary information on your own.
To help you make your decisions faster and easier, we've prepared a detailed Pimcore vs. Salsify comparison.
Let's dive right in.
What is a PIM and why is it crucial to implement PIM?
Before we go to lengths on Pimcore vs. Salsify comparison, let's talk a bit about PIM in general. If you're already a PIM veteran, you probably already know all this information, but it's always useful to revisit such content.
Product information management (PIM) is software used to efficiently manage product data, including import, export, and enrichment of the data. To minimize human-made errors and increase transparency and productivity, PIM systems consolidate all of the gathered data in a single location.
PIM handles the import of the data from all of the connected data sources, such as your ERP, BI, or ERP systems. The imported data is further completed, transformed, and prepared for export via any communication channel you decide to connect.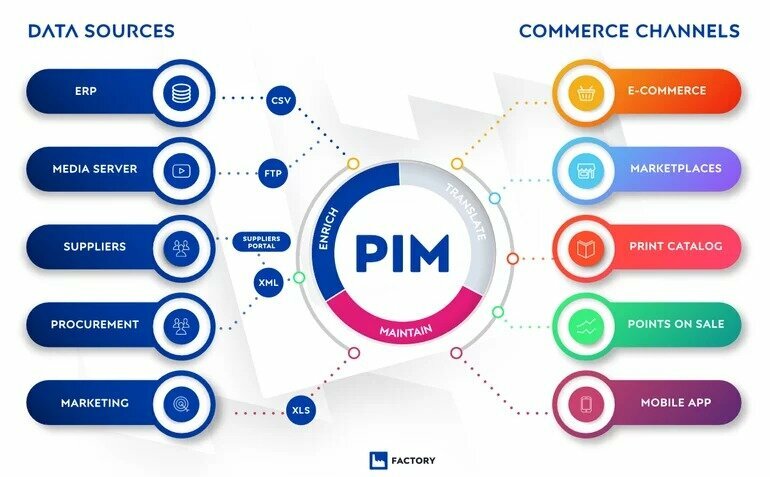 In the image above, you can see a few examples of such communication channels you can choose to use.
The benefits of using a PIM system may already seem somewhat clear to you. There are no errors in the data, meaning that your customers will see only the correct data. Presenting inaccurate information may cause some issues, especially if you're in the eCommerce industry.
All of the data management processes can be much more easily automated, so whenever you decide to sell a new product or expand the existing products with several variants, you'll be able to rely on PIM to facilitate all of the product data management.
Here's an excellent video going a bit more in-depth about PIM and its use.
Using a PIM is of paramount importance, and the biggest question now isn't "should I use PIM?", it's "which PIM should I use?"
Today, you'll learn more about the differences and similarities between Pimcore and Salsify.
First of all, let's learn a bit more about each of these two platforms.
What is Pimcore?
Pimcore is a powerful open-source digital experience platform with a plethora of features for data management and experience management. It consists of 6 systems, each capable of working as a standalone system or all together as a single platform.
Pimcore consists of 6 separate systems, each providing a large set of features. More accurately, Pimcore features:
There are few platforms on the market that can successfully compare themselves with Pimcore. Whatever business initiatives you intend to start, Pimcore can fully support your actions and help you establish efficient workflows, utilizing its advanced workflow engine.
One of the interesting points to note is that Pimcore isn't an out-of-the-box solution as many PIM systems usually are. Instead, Pimcore is a framework that can be used to build any kind of custom solution you want.
To build a Pimcore solution, you'll need a reliable development partner, so take into account that development costs may have a substantial impact on your overall budget. On the plus side, Pimcore allows you to create nearly anything you want, including internal communication systems, complex scenarios through workflows, and personalization strategy through its personalization engine.
There are countless possibilities, but today we'll stick to PIM.
In that sentiment, here's a short demo video on PIM, coming directly from the official Pimcore YouTube channel.
https://youtu.be/EbUnxEx3zRY
Also, if you'd like to learn more about Pimcore and its features, check out our YouTube channel! We've got some tutorials and video guides so feel free to visit us anytime. Here's our Pimcore playlist!
Now, let's jump over to Salsify.
What is Salsify?
Salsify is a SaaS platform designed to allow its users to completely control their products through product information management, digital asset management, and several other notable features.

Salsify offers its customers a wide range of products and features. Primarily, these products will ensure that your product data is under control and is efficiently used throughout all of the company operations.
Here's a list of such products and features, coming directly from Salsify.
Being a PIM system is one of Salsify's greatest strengths, even though it features a plethora of other products, such as supplier experience management, digital asset management, global data synchronization network, and so on.
Salsify is definitely one of the most advanced PIM systems on the market. Adam Ferrari, EVP of Engineering at Salsify explained in detail how their PIM works in this video below.
So, some of the main benefits of using Salsify would be:
An increase in control and agility
Reduced bottlenecks as all data are easily accessible for all users
Increased productivity through specifically-designed workflows
One of the more interesting facts on Salsify PIM is that it can create more than one source of truth. Let us explain this briefly.
Salsify PIM is the home of the core truth, meaning that the original and accurate product data is located in that core. Additionally, if the company that's using Salsify decides to start selling on Amazon, they'll have the option of creating a separate source of truth that will contain all of the data necessary for selling on Amazon.
Each distribution channel requires a different set of data and building separate sources of truth may benefit you in the end. As the Salsify user changes data in the core source of truth, this will be reflected in other sources of truth as well. But if, for instance, a user changes data in the Amazon source of truth, the core source remains intact.
This may come in handy when you're dealing with numerous distribution channels, and all of them have different product data requirements.
Having a PIM system implemented if you're an eCommerce business is almost unavoidable and there are numerous successful examples of PIM implementation. Below, you'll see how Royal Canin used Salsify PIM to handle their product data.
An interesting point to make here is that they didn't even know how many products they had listed. Even though this seems trivial, it's a mistake many eCommerce businesses make. Knowing exactly what products you're selling, to which customers, and on what channels is of paramount importance.
Be it Pimcore or Salsify, a PIM system is a must-have system nowadays for any eCommerce business that's trying to maximize company profits.
Both these platforms are excellent, but which one is a better fit for your company? In the next chapter, we'll compare Pimcore and Salsify directly.
Pimcore vs. Salsify - the comparison
Both Pimcore and Salsify are strong platforms with tons of features. They share a lot of functionalities, and here's a list of them:
Access controls/permissions
Audit trail
Cataloging and categorization
Collaboration tools
Content management features
Content library
Content creation features
Data modeling
Data quality control
Digital asset management
Document management
Inventory management
Master record management
Metadata management
Multi-channel marketing enablement
Pricing management
Product lifecycle management
And the list continues. As mentioned, these 2 platforms provide an extraordinary set of tools for its users and they provide a plethora of options when it comes to data management.
Both Pimcore and Salsify will enable you to create and manage your workflows, improve your data quality, and create a supporting work environment through transparency and collaboration.
Still, there are some notable differences between these two platforms. Pimcore is more a well-rounded platform with an even longer feature list, including some of the Pimcore-exclusive features to its users:
Activity dashboard
Activity tracking
Internal notifications system
Asset lifecycle management
Built-in database
Channel management
Configuration management
Customizable branding, forms, and templates
Customizable categories
Dashboard creation
Data connectors
Data migration
The list goes on for more than 20 features. Pimcore belongs to a different category of platforms. Rather than being an out-of-the-box solution like Salsify, it's designed as a framework, making any kind of solution possible. It can be endlessly customized and it can even replace all of your existing systems with only a single platform.
Important to note is that both Pimcore and Salsify utilize an API-first approach. They have numerous integrations available and can connect virtually to any other 3rd party app. So, it's easy to complement any feature of these 2 platforms with an additional 3rd party app if needed.
Both platforms offer in-depth product analytics, and here's how Salsify handles it. A clean UI with intuitive navigation and easy-to-use options.
Be sure to visit more tutorials and demos such as this one to get familiar with the UI and some of the initial dashboard features.
Also, here's a short video from Pimcore, displaying how its data modeling feature works in detail. Pimcore's UI is a bit more complex. There are numerous features available and every single piece of data is easily accessible in just a few clicks. Learn more about it in detail in the video below!
Now, you've become familiar with both platforms, it's time to compare their pricing plans!
Pimcore vs. Salsify - the pricing comparison
Even though these platforms may offer some incredible features, pricing is often what first captivates our interest. Let's check out how Pimcore and Salsify compare when it comes to pricing.
Pimcore's pricing is organized into 3 different editions.
The first, Community Edition, is a free one. There are no licensing fees or any other fees but take into account that you'll need a reliable development partner to help you build your Pimcore solution. And even though this is a free edition, it will provide you with everything needed in a corporate environment, meaning that you'll be able to use all 6 Pimcore products however you see fit.
Next, Pimcore's Enterprise Edition costs start at about €19,200 per year. This edition grants you access to all of the Enterprise-only features, providing even more tools to take advantage of your data. Also, you'll have access to SLA (Service Level Agreement), LTS (Long Term Support), and consulting directly from the Pimcore team.
Finally, there is the Unlimited Edition. To obtain more information about the cost of this edition, you'll need to directly contact Pimcore for a custom offer. Important to mention is that the main difference between the Enterprise Edition and Unlimited Edition is that Unlimited Edition provides support for an unlimited number of installations. Also, you'll get a bit more out of Pimcore regarding support, but that's all there is pretty much when it comes to differences between these two editions.
Here's a detailed breakdown of Pimcore's pricing plans.
Salsify, on the other hand, is not so keen on transparently displaying its pricing plans.
On the Salsify website, you won't find any information on pricing, but you'll have an option to contact them directly regarding pricing. Still, Salsify users have spoken openly on this subject.
According to user reviews from platforms like GetApp and Capterra, the minimum price tag is $35,000 per year with an additional minimum of $16,000 to hire an external Salsify partner to implement the platform.
Taking into account that Salsify offers somewhat similar features to other PIM systems with lower quality of support and higher prices, it may not be the best entry-level PIM platform.
ITQlick platform has gathered a large amount of information on Salsify pricing, so be sure to visit them and calculate the potential costs before you make a final decision.
Pimcore vs. Salsify - which PIM should you choose?
Both Pimcore and Salsify are powerful PIM platforms, but when compared side by side, one of them clearly stands out.
Pimcore is a platform with countless possibilities and virtually no limitations. Taking price into account, Pimcore is much more accessible. Even if you calculate the development costs, a complete Pimcore solution will still cost you less than Salsify.
Furthermore, Pimcore is a much more versatile platform, offering 6 different solutions for a wide range of business activities. Developing a marketing strategy, setting up new pricing structures, or creating new complex workflows - it can all be done within a single platform.
Taking everything we've written and read so far into consideration, Pimcore is our preferred platform choice over Salsify. Pimcore offers a wider range of features, much more responsive support, and even offers a free pricing plan to all its customers.
If you're running a larger company or you're dealing with several complex projects and workflows - you'll probably choose Pimcore over Salsify. It can handle millions of SKUs, process millions of customer data entries, and take care of all of the product data.
As a development company, we've come to grow fond of Pimcore and we've been offering Pimcore solutions to our clients for years. Our efforts and results have been recognized by Pimcore and we've been granted the title of Pimcore Gold partners!
If you'd like to have our full support in implementing data and experience management systems, feel free to reach out to us anytime!
Pimcore vs. Competitors
You'd like to know how Pimcore compares to the rest of its competitors?
Here are a few comparisons you may find useful:
This guide is part of the category, read more on
Looking for Exponential Growth? Let's Get Started.