Product Management solution for KNUTH
Enhancing the Product Management for the Global Leader in Machine Tools Manufacturing
KNUTH is a leading international machine tool supplier in the manufacturing industry, with a global presence in over 30 countries. After continuous business growth, they needed support with their product information management system — and that is where Factory's know-how comes into the picture.
We optimized and relieved Knuth Machine Tools' product and data management processes by developing and implementing a new PIM system — enabling them to easily and intuitively manage more than 120 series of products. Find out what we did and how it helped Knuth to maintain and strengthen its position as a global leader in its field.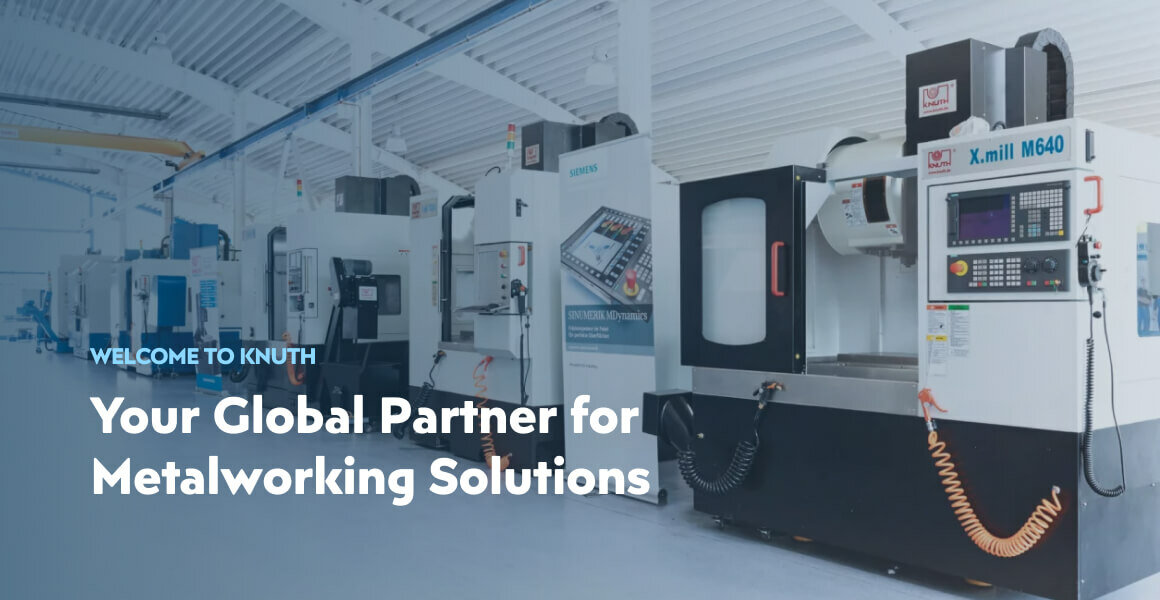 The Story of KNUTH
Established in 1923, KNUTH is a leading international machine tool supplier in the manufacturing industry and is present on every continent except Antarctica. The company headquarters are located in Germany, and its international customer base is very diverse — from small workshops to large global enterprises — they serve any business that processes metal in sectors such as the automobile industry, shipbuilding, toolmaking, renewable energy, agricultural engineering, repair shops and many more.
KNUTH's portfolio ranges from CNC and conventional machining technologies, including lathes, mills, drilling, and grinding machines, to a wide variety of sheet metal working technologies such as laser, water, and plasma cutting machines, bending machines, shears, and press brakes. With so many products and customers with diverse requirements, it is evident that their Product information system had to be immaculate!
Business Challenge
Over the years of KNUTH's business growth, handling two independent systems for managing their products on the Magento website was getting increasingly complex. So, to get around that challenge, KNUTH sought a partner to help them build a single source of truth for their product data stored in the ERP (Enterprise Resource Management) system.
One place for managing all the product information would mean better efficiency and stronger control over the accuracy & accessibility, and overall flow of information. Having years of experience in developing and implementing the most complex digital solutions, especially in the area of data management, we knew exactly what we needed to do.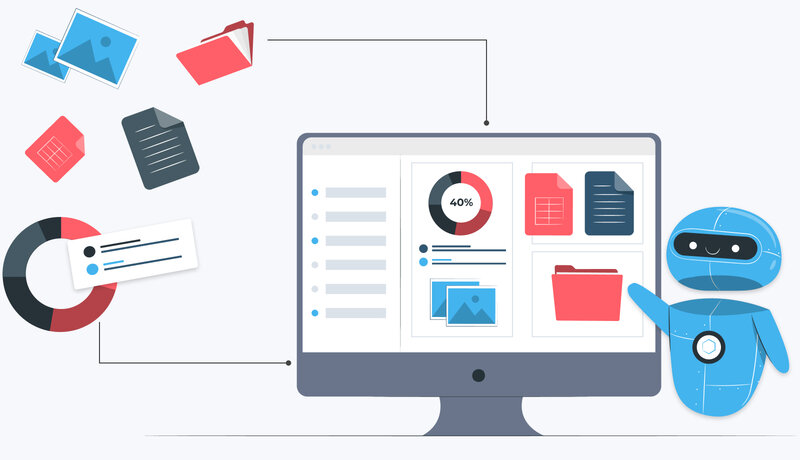 The Results: A Single Source of Truth For all Product Information
Having a precise goal in mind, we developed a perfect solution to solve KNUTH's business challenge — a custom Product Information Management (PIM) and Digital Assets Management (DAM) integrated with APplus ERP (by Asseco) — all accessible from one place and powered by Pimcore.
But, our collaboration didn't end there. After a successful PIM and DAM setup — accompanied by ERP integration — the KNUTH team decided to explore the option of using Pimcore's Content Management System (CMS) capabilities. That led us to create an integrated PIM + DAM + CMS solution. In other words — the Pimcore Digital Experience Platform (DXP) solution.
Today, while the Pimcore DXP is successfully powering all Knuth online presence, we are looking into phase 3 of the project. What is it? Stay in touch and find out, but until then, keep reading and discover everything we did!

A Communication System that meets all goals
Since KNUTH has a broad customer base with specific business needs, we developed a custom communication system aligned with their objectives and integrated it with their Salesforce CRM system.
Everything is clean and straightforward for KNUTH's website visitors. Suppose they need startup services, maintenance services, repairs & spare parts, or just booking a demo. In that case, they can easily get in touch and send an inquiry through the custom-made contact forms.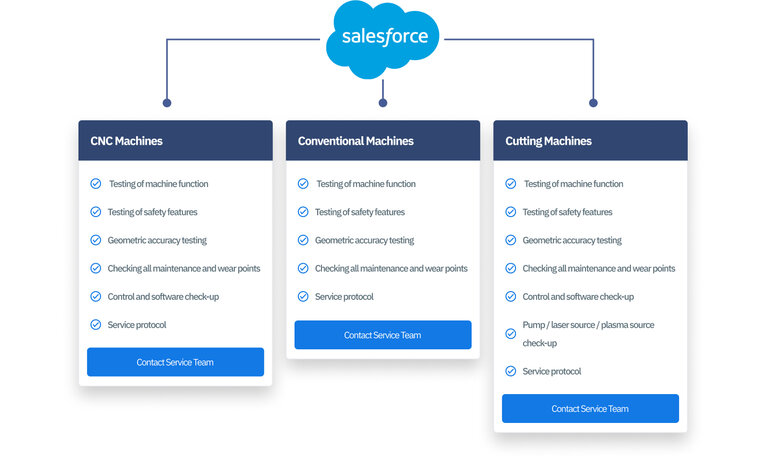 Automatization of the email system
Whenever a customer sends an inquiry on certain products, it is automatically sent to Knuth's Salesforce CRM system through API. We've successfully automated our clients' email system for specific situations, such as RFQ (Request For Quote) process and similar, to speed up and simplify their sales and customer support processes.
Simple Case Study Production
Case studies are an important part of our client's business approach, so we needed to develop a solution to make the production of case studies as simple as possible. And that's precisely what we did.
When creating a new case study, the KNUTH team can select from variations of custom-made bricks, depending on their goal. We've also developed a feature that allows them to manage the visibility of specific case studies on targeted markets — because not all cases are meant for everyone.
And that's it; with just a few clicks from a selection of predefined properties, a new case study is ready to see the light of the day.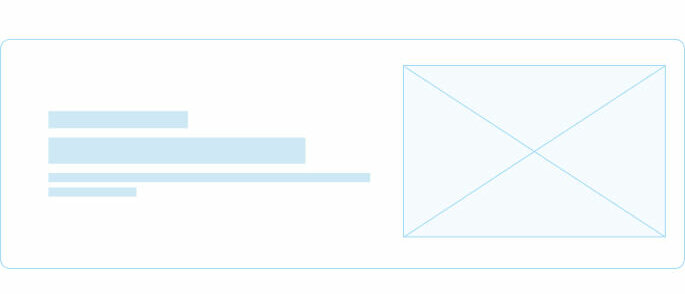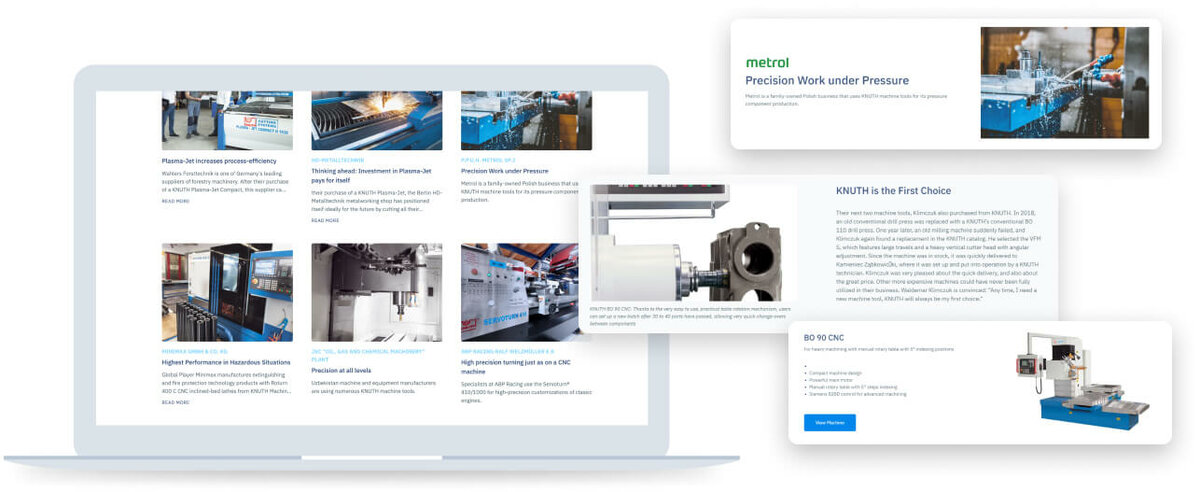 Multilingual & Multimarket website
KNUTH is present on every continent except Antarctica, so it's logical that its website had to be available and understandable to all of its customers.
Results? — a multilingual and multimarket website translated and adapted for nine different languages.
But we didn't stop there. Utilizing the power of Pimcore, we've developed a feature that allows KNUTH to easily manage what content and language users will interact with when visiting the website — based on their location — providing a seamless experience to all their customers.
Allocated benefits of PIMCORE
Pimcore's PIM system has met all needs of Knuth Machine Tools, and here are just a few of the advantages that displays why they choose it amongst numerous other alternatives.
ERP system synchronization
Pimcore's design is powered by 100% API-driven software architecture. This option allows connecting Pimcore with various enterprise systems, such as ERP, CRM, BI, ESB, etc.
Complete website development
With Pimcore being a flexible headless CMS, producing a completely new website is done efficiently, and developers have the possibility to create anything that client needs! In our case, a KNUTH website is a total aggregation of all data collected through the PIM and DAM systems we've developed.
Elasticsearch — a solution for handling vast amounts of products
As Knuth features a massive number of products, there was a need to provide customers with an optimal UX when searching for specific products. Elasticsearch is an open-source search engine built to handle these exact situations. Pimcore offers seamless integration with Elasticsearch, which significantly benefits the customer experience.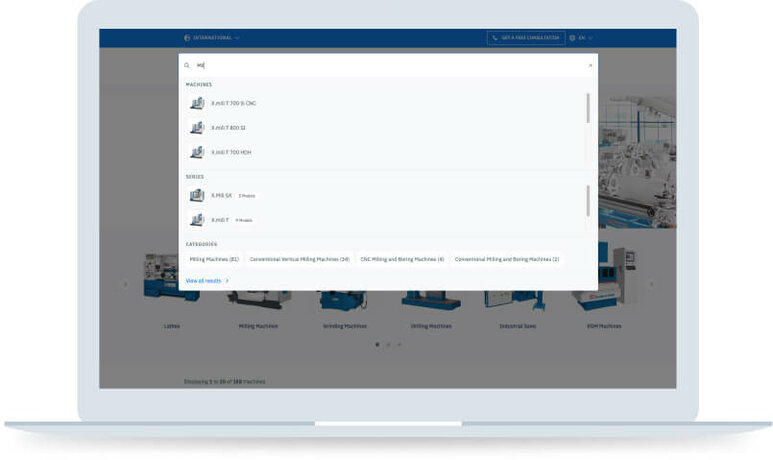 One Digital Asset Management software to rule them all
We've utilized Pimcore's DAM software to centralize all KNUTH's media assets. From images and videos to graphics and catalogs, all types of media content are now stored in one place and can be easily managed and distributed wherever needed.
Scalability and resilience
Pimcore's API-driven software architecture makes scaling and implementing new features less costly and less time-consuming. It can support any amount of data that withdraws all doubts regarding Pimcore's capabilities to scale.
High security
Pimcore takes security very seriously. It has a sophisticated database, and if anyone got in — it would be too complex mission for them to do anything. Some parts of Pimcore's multi-layer security are provided by the core framework from the start, while other components can be offered by solution partners such as Factory.
Single source of truth
All of the data is stored in a single centralized data repository. This way, we eliminate data silos, meaning — no more communication errors, and you always have a clear picture of your business. All of your team members have access to the same data, and their level of access depends on your organization's structure.
TESTIMONIAL
Transitioning to new technology is one demanding process, and we were fortunate to have the Factory team take on this challenge. They have been a reliable and highly-professional partner throughout. The Factory's flexible approach and dedication to the project fostered a solid partnership that resulted in strong business outcomes for KNUTH.

Mariana Kizlyk, Product Manager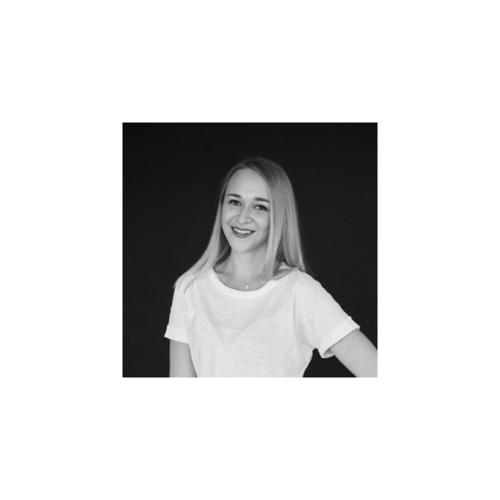 Need help with handling and organizing product data?
We've successfully assisted Knuth with their Product Information Management, but our journey doesn't end here. Since they are constantly upgrading their business processes — our collaboration is still ongoing — so we'll keep you updated with every novelty we develop and implement.
We are proud to be their partners and consultation support in their growth! If you need assistance with managing and organizing your product information, don't hesitate to get in touch!