Pimcore vs. Inriver: Which PIM is the best choice for your company
Last updated on 26 January, 2022
7 min read
You're looking for a comparison article to help you make a decision on Pimcore vs. Inriver?
Well, you're in luck! We'll go through the differences and similarities of Pimcore and Inriver, and assess just how powerful their product information management system is. Both platforms are used by many successful companies to take control of their product data, but which platform performs better?
You'll learn more about both platforms, how PIM functions, and if it's possible to connect PIM with systems such as CMS to ensure your content management efforts are at a high level.
So, let's dive right in!
What are product information management (PIM) and content management system (CMS)?
Both PIM and CMS are commonly used systems, most often used together, but there are some notable differences.
To put it short, PIM is a system that centralizes all of your organization's product data in a single source and makes it easy for your teams to access and distribute that product data. On the other hand, CMS is a system that enables you to create, edit, and distribute your content to any user through all kinds of distribution channels.
But let's go a bit further.
How important is PIM for your organization?
Product information management (or PIM for short) is undoubtedly one of the most important systems you may implement in your organization. And if you're managing an eCommerce store, you've probably already heard about PIM and the benefits it brings to the table for online retailers.
Firstly, it provides your business with clean and accurate product data. Your product information and description will look flawless and will contain all of the required information to ensure your customers have everything they need in order to make a purchase. Having inaccurate product data may cost your business huge amounts of money in terms of product returns, as well as lower conversion rates in the first place.
PIM centralizes all the data in a single location, so you can easily access it whenever you need it.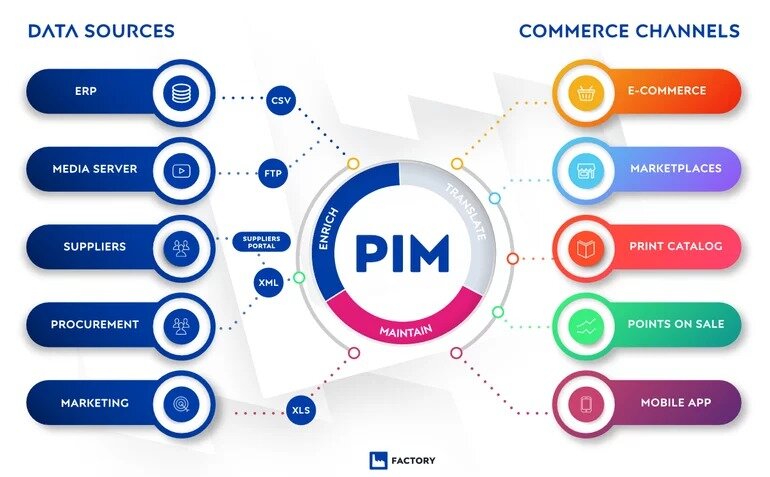 Above, you can see how a PIM system works. In essence, it connects to your data sources and gathers all of the available data. The data is then enriched, translated, and unified, and prepared for distribution. Lastly, the data is distributed across any communication channels you want, such as an eCommerce website, online marketplace, POS, or any other.
Now that you've refreshed your knowledge on PIM, let's talk a bit about CMS.
How does a CMS help your organization?
A content management system (or CMS for short) finds its use in almost every organization. The main purpose of a content management system is to enable you to manage all your content easily, without any developer assistance.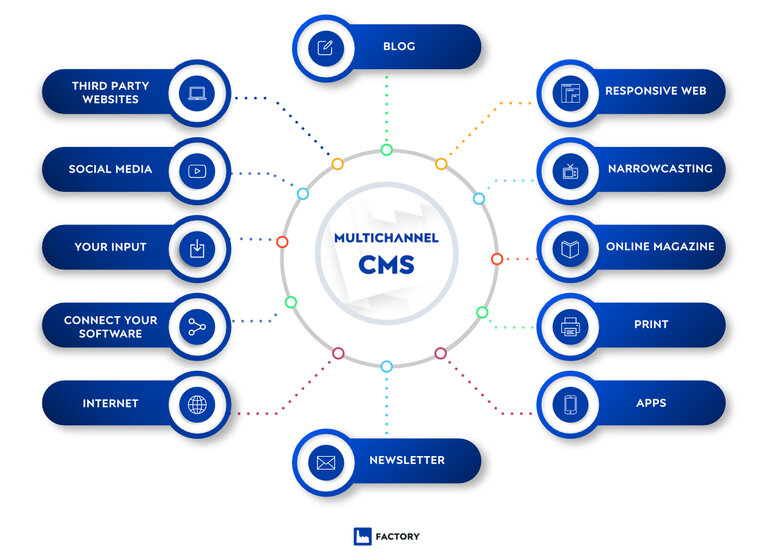 With a CMS, you can create, edit, and distribute content across multiple communication channels. It enables you to create functional pages and to be fully involved in the content management processes at your organization without having to understand any programming languages. While it still may prove to be useful, it's not necessary to successfully use a CMS to its full potential.
Now when we've been fully introduced to both PIM and CMS, let's talk about 2 of the widely used platforms that can help you leverage PIM and CMS functionalities - Pimcore and Inriver!
What is Pimcore?
Pimcore is an open-source digital experience platform, coming with 6 modules for data management and experience management needs. It can handle any type and amount of data and use it to create meaningful digital experiences for your users.
It's an all-in-one solution for a majority of your business needs, such as managing product information and digital assets, automating marketing activities, managing customer, vendor, and partner data, creating complex workflows, managing content, and much more. It has all the needed capabilities to fully support any eCommerce business in its sales efforts.
Pimcore finds its use in almost every department of your organization, and it can serve many purposes - you can use any combination of Pimcore's modules you want, be it just 1 module, 3 modules, or even all of them. Pimcore's flexibility is unparalleled.
What is Inriver?
Inriver is a strong PIM platform used mostly by eCommerce, retail, and manufacturing companies. It's a fairly easy-to-use PIM platform designed for gathering your product data, and it even has some digital asset management capabilities as well!
Even though it's no match for Pimcore in terms of features and benefits, it's a powerful platform with all standard PIM features at your disposal. Moreover, it even features workflow management, meaning that your internal processes regarding product data can be much more easily organized, as well as your team members' activities.
Inriver's UI looks fresh and visually appealing, but still - there's a steep learning curve waiting for you in the beginning. Often, there's a need for multiple special training sessions in order to understand all of the features Inriver offers.
Pimcore vs. Inriver - How do they compare?
Both Pimcore and Inriver come with strong PIM capabilities, with Inriver lacking in all the other areas Pimcore has covered. Taking note of the overall capabilities, Pimcore takes the lead with its 6 modules, providing solutions to a great number of business challenges. But let's take a closer look at how these 2 platforms compare in terms of features and performance!
Both Pimcore and Inriver are capable of:
Importing data
Enriching data
Delivering multi-channel experiences
Scheduling
Web 2 Print
Internal messaging
Access through dashboards
Workflow management
Even though Pimcore is capable of performing any kind of PIM-related tasks, there are some features Inriver PIM is known for:
Validating and automatically updating product information
Customizing, personalizing, and bundling offerings for a relevant and contextual customer experience
Mapping product relationships
Image recognition for automatic product attributes generating
Planning campaigns with the built-in GANT chart functionality
Alternatively, Pimcore provides you with all the needed PIM features, and more:
Creating printable PDF product carts
Hosting product e-catalogs
Built-in photo editor
Scheduling the product publishing
Mobile/responsive web support
WYSIWYG editor
Content management module
Video support
Graphical workflows
Pimcore goes a long way in offering top-notch PIM features in its Enterprise edition as well:
Product experience portals for sharing and searching product information across departments
Product data syndication
Product feed management for all channels
Tracking orders on a centralized dashboard
Automation of print processes
As Pimcore is an all-in-one solution for all data and experience management challenges, as well as eCommerce ones, it's hard to compare it to Inriver, which is solely a PIM platform with limited digital asset management capabilities.
And yet, Inriver trumps Pimcore in terms of visual appearance and usability, placing the visual presentation of all data and activities as a high-priority aspect of the platform. Inriver does get a bit overwhelming at the start with its steep learning curve, but after several sessions of specialized training, you'll be able to use Inriver to easily manage all your product data.
On the other hand, Pimcore's UI looks minimal, ensuring that the admin user does not get overwhelmed by the sheer complexity of the platform. And if you're set on using more than just the PIM module, Pimcore will allow you to effortlessly transition between its countless features.
Regarding support, Inriver offers its users support via support tickets which they can submit on their website and through their community forum, also hosted on their website. Inriver has a much smaller user base than Pimcore, which explains the lack of support overall.
Alternatively, Pimcore boasts a growing number of its community members, each ready to provide support through Pimcore's forums, articles, whitepapers, consultation calls, and much more. Additionally, Pimcore's Enterprise Edition users are provided with an even higher level of support, which Inriver lacks at the very start.
Why and when to choose Inriver and when to choose Pimcore?
As technology keeps advancing and customers' demands keep increasing, having a completely future-proof PIM solution is of paramount importance.
If you're looking for a simple PIM solution to integrate with your existing systems, and you're ready for its steep learning curve, you may choose Inriver as your PIM solution.
Alongside its regular PIM functionality, it offers workflow management, digital asset management, and web-to-print features that will ensure you can easily stay on top of your product data.
Inriver's community works very well and it offers Inriver's partners and clients a chance to collaborate on improving the platform. However, there is a downside to choosing Inriver as your PIM platform. It's a closed-source platform, meaning that there's one central team that's in charge of maintaining and updating the platform, opposed to an open-source platform such as Pimcore where the entire community can openly contribute to building new features and eliminating all the issues.
Unlike Inriver, Pimcore isn't an out-of-the-box PIM solution. Pimcore can better be defined as a framework upon which you can easily build and connect multiple systems. Systems such as master data management and customer data platform can easily be configured with Pimcore and connected with your external ERP, CRM, BI, and many other systems.
Depending on your needs, you can choose any combination of Pimcore's components you may need; be it just one component; 3 different components, or even all 6 of them. Pimcore fully adapts to your business needs.
To conclude, if you're tackling larger and more complex projects, or if there's more than just one project in your plans, you may want to consider Pimcore as your PIM solution.
Pimcore vs. Inriver - the pricing comparison
Pimcore's paid Enterprise Edition costs start at about €19,200 per year. In the Enterprise Edition, you'll have access to a large number of Enterprise-only features. Additionally, you'll have full access to SLA (Service Level Agreement), LTS (Long Term Support), and consulting.
Still, Pimcore's free Community Edition comes with a wide range of features as well. Even though it's named Community Edition, it can be successfully used in any corporate environment, as it enables the full use of any of 6 Pimcore key components.
Unlike Pimcore, Inriver doesn't offer any pricing plans. To find out more about Inriver's pricing and all the additional costs associated with implementing Inriver, you'll need to contact their sales department!
At this moment, unfortunately, we can't offer more information on Inriver's pricing and how it compares to Pimcore and other PIM platforms.
Pimcore vs. Inriver - which platform takes the win?
Taking all aspects into account, Pimcore takes the win in this Pimcore vs. Inriver comparison.
Unlike Inriver, it comes with a large set of features covering much more than just product information management needs. Pimcore's a powerful platform, without any vendor lock-in and with the full support of its large and growing community at all times.
Still, if you're looking for a simple PIM to help you manage your product data, you may give a chance to Inriver and contact them.
And in any other case, our suggestion is to move forward with Pimcore as your choice. Firstly, it's open-source, meaning it's cultivated for innovation and in constant development. Secondly, Pimcore's free Community Edition offers a large set of features despite its price. And lastly, it's a powerful platform that can handle almost any business challenge your organization may have!
Be it a data management, experience management, or an eCommerce challenge - Pimcore has the capacity to solve it.
And if you're looking for a reliable development partner to help you implement a PIM system, reach out to us and let's talk about your ideas! We're experts in building product information management systems, and we'd like to help you out!
Whenever you're ready - we're on it!
Pimcore vs. Competitors
You'd like to know how Pimcore compares to the rest of its competitors?
Here are a few comparisons you may find useful:
This guide is part of the category, read more on
Looking for Exponential Growth? Let's Get Started.