Pimcore vs. WordPress: Choosing the right CMS for your company
Last updated on 26 January, 2022
6 min read
In this article, you'll find everything needed to decide the winner in the Pimcore vs. WordPress showdown! You're thinking of implementing a PIM or a CMS system, and you'd like to know which platform can set you up for success?
You've come to the right spot! In this article, we'll go through the differences and similarities between Pimcore and WordPress to help you decide which platform will suit your needs.
Without further ado, let's dive in!
What is Content Management System (CMS) and Product Information Management (PIM)
Both product information management and content management system are extremely useful systems, but they are some key differences.
CMS and PIM are generally different systems. CMS is a system used for creating and managing content, including content publishing and distribution across selected channels. PIM, on the other hand, handles data. It centralizes all of the product data in a single source, making it easily accessible and useful for your marketing and sales teams.
Let's disclose a bit more about each of these.
How can a business benefit from using a CMS?
Almost any business can find massive value in owning a content management system (or CMS for short). Its main purpose is to manage all the content, enrich it, and publish it so it can be distributed across various channels.
CMS enables any non-technical user to create functional pages and to get involved in the content management process without the need for help from a developer. Having an understanding of programming languages may be useful, but far from necessary to successfully operate a CMS.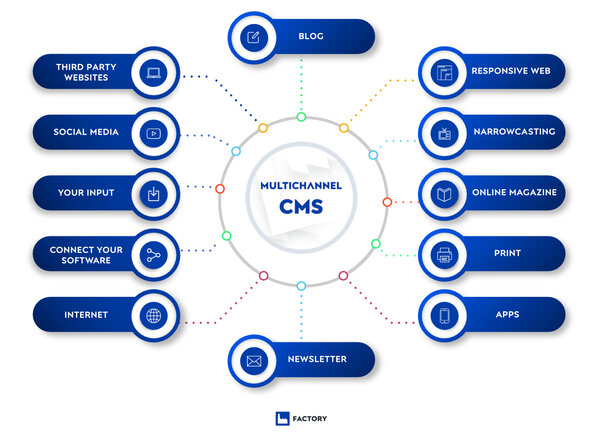 In the image above, you can see the channels handled by a CMS. It gathers information from various sources, enriches it, and distributes the finished content across multiple channels. Channel limitations vary from one CMS to another, so you'll need to ensure that you choose the right one.
PIM, on the other hand, is a different system.
Why successful companies use PIM?
Unlike CMS, PIM doesn't handle any content. Its main assignment is to provide your business with accurate product data.
It's easy to outline the main benefits of PIM already! Having accurate product data at disposal anytime needed and improving customer experience by providing only accurate product information is crucial! When running an eCommerce store, you'll definitely want to consider implementing a PIM system!
Same as CMS distributes content across numerous channels, PIM does the same with product data. It gathers all the product data from all your connected systems such as ERP or CRM, fully enriches the data, and distributes it wherever it's needed.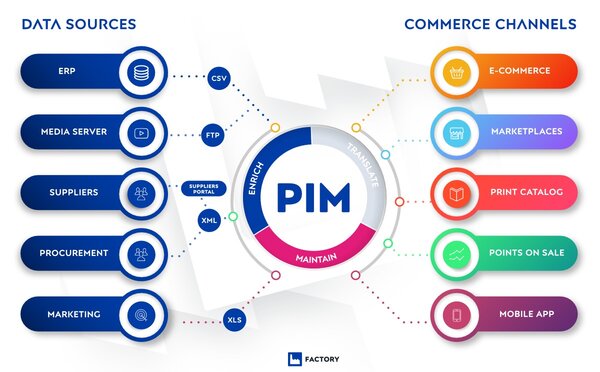 In the image above, you can see some of the channels a PIM can use. Whatever kind of channel you need your data sent to, PIM can handle it!
Now when you can picture what CMS and PIM actually do, let's talk about some of the most popular platforms on the market - Pimcore and WordPress!
What is Pimcore?
Pimcore is an open-source digital experience platform with inbuilt data management and content management capabilities. Unlike WordPress, it can handle any data you gather and use it to power the operations of your entire organization.
It stands as an all-in-one solution for a majority of business needs. It can easily manage and maintain all data, help execute omnichannel strategies, and fully support any eCommerce business in its sales and marketing efforts.
Pimcore brings benefits for every department inside your organization. Apart from managing data and improving your eCommerce results, you can use Pimcore for automating your marketing activities, personalizing content at scale, and even creating complex workflows for your employees.
What is WordPress?
WordPress is an old name in the industry. It's a traditional CMS used by millions of people across the world for content management and website creation purposes.

Its capabilities are widely expanded through its extensive use of plugins. For almost any business need, there is a matching plugin ready to use. It has a wide range of available website templates, allowing for a decent level of customization. However, the wide use of plugins poses a security risk as many 3rd party plugins aren't fully secure and allow for easier security breakthroughs.
Same as Pimcore, it's open-source, meaning any developer around the world can contribute to the source code and improve the platform. It owes the majority of its features to plugins, who find their way into almost every aspect of the platform.
One of the most important plugins on the market are Yoast SEO and WooCommerce, allowing for full SEO optimization and turning your WordPress website into an eCommerce site.
And now - it's time for Pimcore vs. WordPress clash! Let's compare the platforms and see which one suits your company better!
Pimcore vs. WordPress - the comparison
Both Pimcore and WordPress have CMS capabilities, but WordPress lacks in any other area. Regarding the overall capabilities of a platform, Pimcore easily outshines WordPress, but let's move on and compare these two platforms' features and performance!
Both platforms enable you to:
Manage content
Optimize content for search engines
Translate content into new languages
Integrate 3rd party apps
Automate marketing activities (WordPress can with plugins)
Personalize content (WordPress can with plugins)
Fully customize the website
Prepare content for web-to-print (WordPress can with plugins)
There are many differences between these two platforms. So, let's see in what ways can WordPress help your business:
Easy to use for non-technical personnel
Availability of useful SEO plugins
Multilanguage support through plugins
A wide range of free website templates
Simple content publishing and media management
Easy to install - reduces implementation time
Built-in comment section
On the other hand, Pimcore provides you with a wider arsenal of features and benefits needed for any modern-day business:
Product feed management for all channels
Marketplace integration
Connecting any external system to Pimcore
Easy data import from any data source
In-built photo editor
In-built SEO management dashboard
Elimination of data silos
Easy creation of product catalogs
Strong personalization capabilities through behavioral targeting engine
In-built analytics dashboards
A complex pricing rules engine
Creating and managing complex workflows
Unlike WordPress, Pimcore is an all-in-one solution enriched with numerous features for managing products, media assets, master data, customer data, and much more. For every business problem, Pimcore has a solution.
From any kind of data quality issue to personalization and content distribution matters - Pimcore offers you all the tools necessary to successfully complete a task.
WordPress is a much simpler platform. It's used primarily for smaller projects, as it's not as feature-rich as many complex projects would require. Even when personalizing content, there is a particular set of plugins needed to enable it.
Regarding data management, WordPress falls short. It lacks in-built features for integrating with external systems such as ERP, CRM, BI, and others. Small businesses tend to choose WordPress over Pimcore due to its simplicity and ease of use, and it often perfectly fits their business needs.
On the other hand, if you're tackling a complex project with a large number of stakeholders, data sources, and output channels - Pimcore may much better suit your needs.
Why and when to choose WordPress and when to choose Pimcore?
Business needs and user expectations are constantly advancing, and it's essential to have a platform that can successfully meet your needs.
If you're managing a small business or looking to start one, and you don't have a larger budget to cover the development costs - WordPress may be your platform of choice.
It's easy to use and relatively simple to set up. It lacks in fields of security, data management, and content personalization and distribution - but it may be enough if you're looking to start from zero. You can create beautiful websites with WordPress, but be careful when installing all those plugins! It can have a hugely negative impact on your website's security and loading speed.
And yet, if you're looking for a platform that can provide you with the best ROI and help you tackle extensive projects, Pimcore is your platform of choice.
Pimcore comes with 6 main components, including product information management, digital asset management, customer data platform, and a CMS component which is a bit different from WordPress.
Depending on your business needs, you can use any combination of Pimcore's components you want to. Regardless of the components you implement, you'll always be able to connect Pimcore with any external system, import data, enrich it, and leverage it to execute your business activities.
Pimcore and Akeneo - the pricing comparison
Pimcore comes in two editions - Enterprise Edition and Community Edition.
The paid Enterprise Edition costs start at about €19,200 per year. This edition comes with a large number of Enterprise-only features such as product experience portals, enterprise print publishing, and product data syndication - and you'll have full access to SLA (Service Level Agreement), LTS (Long Term Support), and consulting.
Pimcore's Community Edition is free. There are no subscription or licensing fees, and you'll still have access to an insanely wide range of features. It can be successfully used in any business environment and you can use all of Pimcore's 6 available components to the fullest.
Still, it's safe to say that WordPress is a cheaper platform than Pimcore. When building a website on WordPress, you'll mainly need to pay for the domain name, hosting, templates, plugins, security, and development fees.
Costs of low-end and high-end WordPress websites may strongly vary depending on the type and number of plugins and templates used. Also, if there's a need for any custom development, costs may arise here too.
All in all, as WordPress is used mainly by smaller businesses and sole proprietors, overall costs tend to be smaller than costs of a well-developed website based on Pimcore.
Pimcore vs. WordPress - who's the winner?
After examining the similarities and differences between Pimcore and Akeneo, it's safe to say that Pimcore comes off as the ultimate platform in this showdown.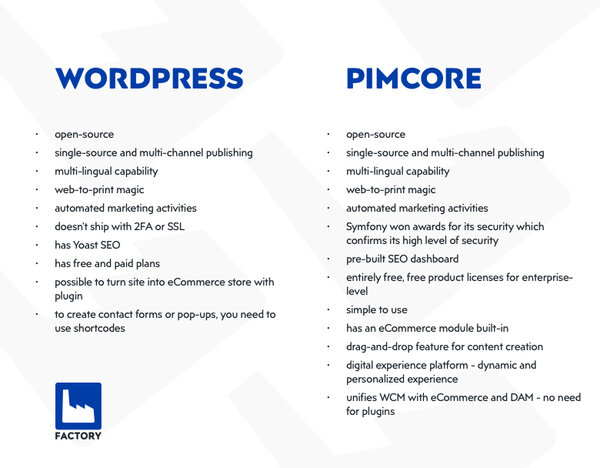 Pimcore's features and business benefits easily outshine WordPress in almost every category. Still, WordPress owes its success to its high flexibility and customization. You can build almost any kind of website with WordPress, but on many occasions, it may not be the best choice.
If you're looking for an easy-to-use solution for managing your small business website and completing all your content management tasks, WordPress can support you all the way through.
But if you're tackling a complex project that requires strong data management capabilities and a wide range of features to enhance your day-to-day operations - Pimcore is your go-to solution.
Finally, if you're looking for a partner to help you implement PIM or CMS system into your organization, we'd like to give you a helping hand! We're experts in Pimcore development, and we're ready to take on any development challenges that come your way.
Reach out to us anytime and let's discuss how we can help you turn your ideas into successful and profitable projects!
Pimcore vs. Competitors
You'd like to know how Pimcore compares to the rest of its competitors?
Here are a few comparisons you may find useful:
This guide is part of the category, read more on
Looking for Exponential Growth? Let's Get Started.