Pimcore vs. Drupal: How to choose the best CMS for your business?
Last updated on 26 January, 2022
6 min read
You've been thinking about implementing a PIM or CMS system and you've narrowed it down to Pimcore vs. Drupal? You've come to the right place!
In this article, we'll help you decide which platform works best for your business and offer you some valuable information on Pimcore and Drupal.
Let's not keep you waiting!
What are Content Management System (CMS) and Product Information Management (PIM)?
Both product information management and content management system are highly beneficial for your business, but each serves its own purpose.
By definition, CMS and PIM are different systems. CMS is a system used to create and manage content, distribute the content, and even personalize it. In short, PIM is a system used to handle your product data. It centralizes all of the product data in a single source, making it easily accessible for your marketing and sales teams.
Here's some more information on each of these systems.
What are the benefits of using a Content Management System (CMS)?
Whatever kind of business you're managing, the chances are that you're already using a CMS. The main purpose of a content management system is to manage all your content, enrich it, and distribute it across numerous channels.
Even if you're lacking serious technical skills, it enables you to easily create functional pages and handle all of the content management needs without the developers' help.
And if you're in eCommerce, you'll definitely want to have a CMS that can fully support your eCommerce operations and help you create product-related content to further your sales efforts.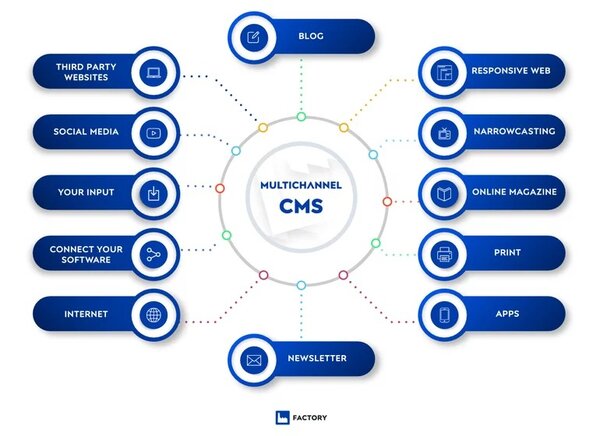 In the image above, you can see an overview of channels you can use to distribute your content with a CMS. The number and type of distribution channels your business can use depend on the platform you choose, so you'll need to be careful when making the final decision.
And let's just quickly disclose some more information on PIM systems before we go any further.
Why implement Product Information Management (PIM) into your organization?
The main difference between PIM and CMS is that CMS handles content and PIM handles product data.
One of the best benefits of a PIM system is having clean and accurate product data at your disposal at any time. If you're in eCommerce, you can already see how a PIM system can be useful to you.
When providing customers with product information as they're venturing through their shopping journey, you'll want it to be accurate at all times. Any error in pricing information, technical information, or usage information can have dire consequences.
So, to avoid such errors and ensure you're providing your customers with exactly what they're looking for, be sure to keep PIM in mind!
In the image above, you can see how a PIM system works. You can connect any data source to PIM and ensure all of your data is located in a single location. From there on, the data is enriched and translated into various languages.
Once the quality of your product data is exactly where you want it, it's time to distribute the data. Wherever you need it, whatever channel you have in mind, a PIM system needs to be able to handle it.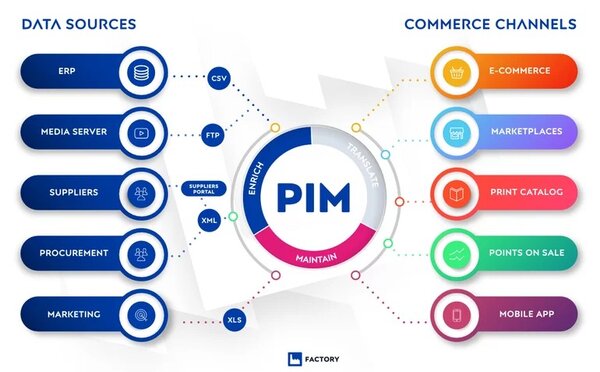 And now, when we've introduced you to CMS and PIM systems, let's dive into Pimcore vs. Drupal comparison and help you choose the next platform for your business!
What is Pimcore?
Pimcore is an open-source platform and currently is one of the most used data and experience management solutions.
It's a unique platform - enabling you to maintain all data, create and distribute all content, and manage all aspects of an eCommerce business. It finds its use in every department and it's an easy-to-use solution that can ensure your business processes are running smoothly.
What is Drupal?
Drupal is an open-source platform for web content management and building digital experiences.

It's a web publishing system used to manage content on a website. Specifically, Drupal builds tools to manage content on websites, and it's one of the most used enterprise-level CMS platforms to date.
Pimcore vs. Drupal - how do they compare?
Both Pimcore and Drupal are open-source platforms with strong content management capabilities. They are capable of automating marketing activities, personalizing and delivering the content, and translating the content easily into several other languages. But, they are different in their fundamental capabilities.
Let's explore and learn about each one.
Now, before you make a decision, let's take a look at what Drupal has to offer:
It's multilingual ready - more than 100 languages available
You can automate your marketing activities, such as e-mail marketing
It comes with an array of customizable templates
You can monitor all your content and campaigns in a single location
Conduct A/B testing and continuously improve on new insights
You can use editorial options to enforce accessible content creation
High-level security features
Drupal can support fast-scaling websites
Drupal is a great CMS capable of fully supporting any business through its content management capabilities. However, it's mostly used in the small-business segment. It performs its CMS duties diligently and it's fast and reliable. It even works as a headless CMS.
But what Drupal lacks are the unique features that can help you go an extra mile. That's where Pimcore comes in. You can use Pimcore strictly for your content management needs, but it can do much more.
Here are some unique things Pimcore can help you with:
It comes with a built-in photo editor
You can use Pimcore's built-in SEO management dashboard
Pimcore helps you eliminate all data silos
Configure prices for every single user through a complex pricing rules engine
Create and manage complex workflows
Easily create product catalogs and other marketing/sales materials, and get them ready for print
Import data from any data source you want
Connect any system such as ERP or CRM to Pimcore
Automate marketing activities
On top of all of Pimcore's CMS features, you can swiftly integrate Pimcore's PIM component and handle product data and product-related content more easily! Pimcore isn't just a solution for businesses in need of a CMS.
It can serve you as a PIM, MDM, DAM, and CDP system as well. And if you're looking to unlock the full potential of the Pimcore platform, you can use its eCommerce framework and ensure you have all the tools you need to run a successful eCommerce company.
Still, Drupal and Pimcore have a lot in common:
Open-source solutions
They are user-friendly
Flexible and customizable
Translating product content into other languages
Fully API-driven
Manage multilingual content
Multi-channel delivery
Content personalization capabilities
Why and when to choose Drupal and when to choose Pimcore?
Both Pimcore and Drupal are open-source platforms that help you to create personalized customer experiences. So, let's break down once more important characteristics for both of them.
Pimcore is a lot easier to install, use and administer. It's more widely adopted because of his capabilities. Pimcore features data management and digital experience management on one interface, meaning you can access all of the information in a matter of seconds.
To be more accurate, we can describe Pimcore as a framework in which systems can be built and easily synchronized.
On the other hand, Drupal is a platform that can easily handle high traffic, so it allows businesses to bring countless users without fear of possible website malfunctions or any similar issues.
Same as Pimcore, it's an open-source platform, meaning that any developer online can take part in shaping the platform and eliminating all the issues.
Since Pimcore is a solution for PIM, MDM, DAM, CMS, CDP, and eCommerce, it's hard to compare it with a platform such as Drupal. Pimcore brings a lot to the table and enables you to tackle almost any business problem you may face.
Drupal is a strong platform capable of handling high traffic and complex website architecture. Same as Pimcore, you can use Drupal to personalize your content and automate some marketing activities. If you want to build a complex CMS platform, you may choose Drupal over traditional CMS systems, such as WordPress.
If you're having a bit more complex project in mind, you may want to consider Pimcore. It can easily connect to any external system such as ERP, CRM, BI, and others, allowing you to centralize all the data you've gathered in a single platform. Besides CMS, Pimcore provides you with 5 more components created specifically to help you manage any kind and amount of data and digital experiences.
Pimcore vs. Drupal - the pricing comparison
Both Pimcore and Drupal are free. You won't need to bother paying any licensing fees or worry about vendor lock-in.
Drupal doesn't feature any enterprise-level editions and you can access all of its features in its free version.
On the other hand, Pimcore comes in 2 editions. Pimcore's Community Edition is fully free and it comes with a wide arsenal of features ready to implement into any corporate environment. Even though it's a free version, you can still use all of Pimcore's 6 components and combine them as you see fit.
Pimcore's Enterprise Edition is a paid one and its cost starts at about €19,200 per year. In the Enterprise Edition, you'll have access to a great number of enterprise-only features, access to SLA (Service Level Agreement), LTS (Long Term Support), and consulting provided by Pimcore themselves!
But with every platform comes the cost of hosting services, designing and developing the website, and promoting the website. So, take your time and decide what's best for your business and start planning!
Pimcore vs Drupal: Which one works better for you?
When comparing Pimcore and Drupal, you'll need to pay attention to every detail, as they're both complex platforms. Pimcore can help you better grasp all your business issues and provide you with full control over your technology.
And even when comparing only the CMS component of Pimcore with Drupal, Pimcore helps you better handle your content management activities.
Especially if you're managing an eCommerce business or you're handling large amounts of data, Pimcore will serve you ideally.
Still, Drupal is an excellent platform and if you're looking to build a large website with a complex structure, you may even choose Drupal as your solution.
But if you're working on a more complex project and you need a strong platform able to take care of all your business needs, you'll most likely want to choose Pimcore.
And finally, you're looking for a partner to help you implement PIM and MDM systems into your organization, reach out to us and let's talk! We're experts in Pimcore development, and we're ready to help you with your business ideas anytime!
Pimcore vs. Competitors
You'd like to know how Pimcore compares to the rest of its competitors?
Here are a few comparisons you may find useful:
This guide is part of the category, read more on
Looking for Exponential Growth? Let's Get Started.