Pimcore vs. Akeneo: Find the best PIM for your company
Last updated on 26 January, 2022
6 min read
Today, we're hosting a PIM/MDM showdown in this article - Pimcore vs. Akeneo! You're already thinking about implementing a PIM or an MDM system, but you'd like to know more about which platform can provide you with the best features? You're in the right place!
In this short article, we'll go through the differences between Pimcore and Akeneo, and help you decide which platform will work best for you!
So, let's jump right into the article.
What is master data management (MDM) and product information management (PIM)?
Both PIM and MDM are powerful systems, yet there are some key differences.
In short, MDM is a system capable of centralizing all of the organization's data in a single source. On the other hand, PIM centralizes all of the product data in a single source, making it extremely useful for marketing and sales teams.
But let's dig a little deeper.
The importance of master data management for your organization
Master data management (or MDM for short) is one of the most important systems your company can implement. Its focus is placed on creating a single source of truth, gathering all of the data from all available sources, and centralizing it in a single and easily accessible location.
The main benefits of master data management are improved data quality and reduced time and cost of managing data. Various aspects of data management are automated by MDM, and it's one of the greatest advantages companies enjoy after implementing it.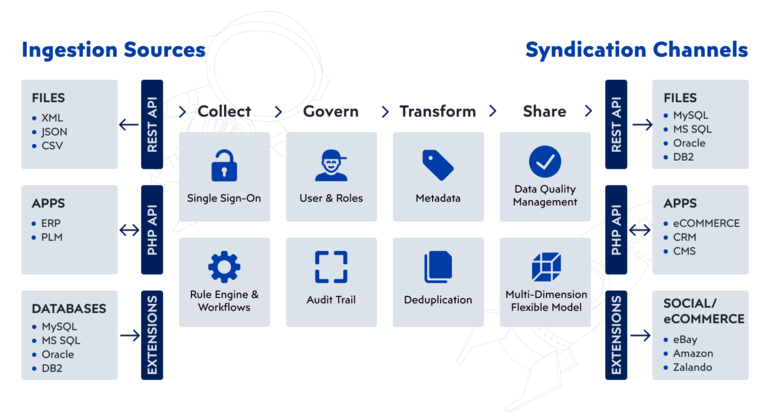 In the image above, you can see how MDM functions. It pulls data from various sources. The data then goes through several stages after which it's distributed across multiple channels.
On the other hand, PIM is a bit different from MDM.
Why is PIM crucial for numerous successful companies?
Same as MDM, PIM provides your business with accurate data. One of the main differences between PIM and MDM is that PIM handles exclusively product data.
So, the main benefits of PIM already begin to look clear - accurate product data and improved customer experience are by far some of the most significant. Especially if you're running an eCommerce business, providing your customers with clean and accurate product data is of paramount importance.
Product information management systems centralize all of your product data in a single location and enable you to distribute it easily wherever it's needed. And here is where we can see a few similarities between PIM and MDM.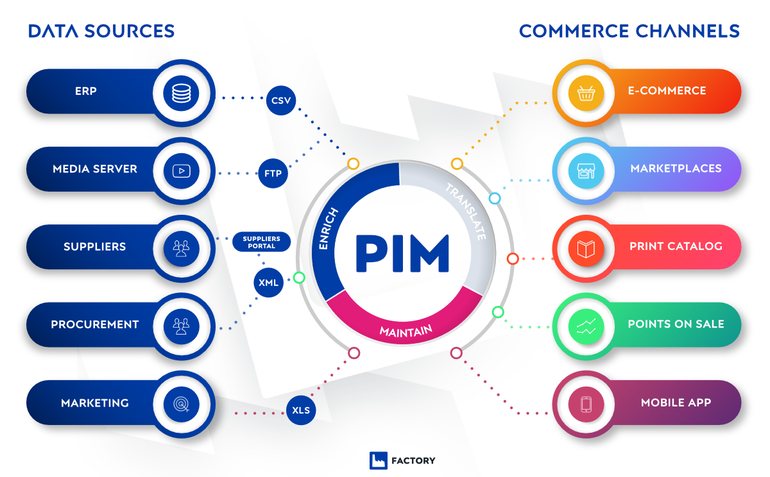 In the image above, you can see how a PIM functions. It gathers product data from all connected sources after which the data undergo a certain transformation. Finally, the data is distributed across several communication channels.
But let's talk about some of the best PIM/MDM systems on the market - Pimcore and Akeneo!
What is Pimcore?
Pimcore, by definition, is an open-source digital experience platform with superb data management capabilities.

It's an all-in-one solution, enabling you to easily maintain all data, execute multi-channel publishing, and manage all aspects of an eCommerce business.
Pimcore finds its use in every department of your organization. From handling your content and distribution of personalized information to improving your data quality and providing you with clean and accurate data - Pimcore does it all on a high level.
What is Akeneo?
In short, Akeneo is an open-source PIM platform used by numerous eCommerce businesses for handling product data.

It helps enrich product information and ensure its consistency across various sales channels.
Akeneo helps you save time and money by centralizing all of the product data and making it easily accessible to all stakeholders. It provides you with all the needed features for managing your product data.
Now, let's see which one suits your organization the best - Pimcore vs. Akeneo is on!
Pimcore vs. Akeneo - how do they compare?
Both Pimcore and Akeneo have a similar set of standard PIM features, with Pimcore outshining Akeneo when it comes to overall data management requirements. Both systems use API connections to integrate data from numerous sources and centralize it. With either Pimcore or Akeneo, you'll be able to:
Manage data quality
Eliminate data silos
Unify all product information
Enrich product information
Translate product information into new languages
Allow for seamless collaboration between your different teams
But still, there are some notable differences between Pimcore and Akeneo.
Akeneo PIM system has better features for improving descriptions including:
Accurate measurement of data completeness
Data quality insights
Automated fulfillment of certain product attributes
Connections monitoring
And it comes with new useful features in its Enterprise edition:
Advanced rights management
Validation workflow for controlling data quality
Franklin Insights tool for automatic update of product descriptions
Reference units for the creation of data and enrichment of the products made available
On the other hand, Pimcore provides a more well-rounded performance with stronger features. Here are some features that Pimcore does better than Akeneo:
Creating printable PDF product carts
Hosting product e-catalogs
Built-in photo editor
Scheduling the product publishing
Pimcore goes a long way in offering top-notch PIM features in its Enterprise edition as well:
Product experience portals for sharing and searching product information across departments
Product data syndication
Product feed management for all channels
Marketplace integration that allows you to track orders on a centralized dashboard
Enterprise print publishing feature allows for automation of print processes
With Pimcore being a solution for PIM, MDM, DAM, CMS, CDP, and eCommerce in a single platform, Akeneo can't really compete with the platform in general.
Still, Akeneo ensures that its PIM system is a bit more easy-to-use than Pimcore. Akeneo users aren't overwhelmed by the sheer number of features and options, but sometimes - it'll seem maybe too simple for certain projects.
Regarding support, Akeneo offers support only for their Enterprise Edition users, while Pimcore offers professional support for all their users. Even though Pimcore is more complex than Akeneo, support costs for its Community Edition can be lower than support costs for Akeneo's Enterprise Edition.
Why and when to choose Akeneo and when to choose Pimcore?
Technology is advancing rapidly, and it's crucial to have a future-proof system at your disposal that meets all your needs and requirements.
If you're looking for an out-of-the-box PIM, Akeneo may be your go-to solution for this matter. It has an extensive marketplace with numerous ready-to-install extensions. Such extensions will enable you to easily integrate Akeneo with systems such as eCommerce, print catalogs, POS, any other.
Akeneo is relatively simple to configure, and with its ready-made connectors, it can help you reduce implementation time. It's highly convenient and easy-to-use, which users will surely appreciate.
Pimcore, on the other hand, is more widely adopted than Akeneo for its vast capabilities. Most importantly, it's an MDM system capable of centralizing all of the available data, rather than just product data.
Unlike Akeneo, Pimcore isn't an out-of-the-box solution. A better definition of Pimcore would be a framework upon which numerous systems can be built and easily connected. Systems such as digital asset management, customer data platform, and others are Pimcore's key components. Depending on the user's needs, a certain Pimcore solution can consist of any combination of Pimcore's components.
If you're looking for an out-of-the-box PIM solution that can be quickly implemented, Akeneo will better suit your needs.
But if you're working on an extensive project, or you'd like to tackle several combined projects simultaneously - Pimcore is your go-to solution.
Pimcore and Akeneo - The pricing comparison
Pimcore's paid Enterprise Edition costs start at about €19,200 per year. Besides enabling a large number of Enterprise-only features, you'll have full access to SLA (Service Level Agreement), LTS (Long Term Support), and consulting.
Still, Pimcore's free Community Edition comes with a wide range of features as well. Even though it's named Community Edition, it can be successfully used in any corporate environment, as it enables the full use of any of 6 Pimcore key components.
Akeneo's Enterprise Edition, on the other hand, will costs you at least $40,000 per year. It supports up to 10 users and one output channel. Also, in its Enterprise Edition, you'll have a DAM system available with a small set of capabilities.
Its free Community Edition is somewhat limited when compared to the paid version. It supports only up to two users, and it doesn't provide content in the form of images. Also, you'll be able to use only simple directories.
Pimcore vs. Akeneo - who wins?
When comparing Pimcore vs. Akeneo, it's easy to see that Pimcore outshines Akeneo in numerous segments.
Unlike Akeneo, Pimcore's free version comes with a large set of features. And to a surprise, Akeneo's Enterprise Edition doesn't fully live up to its name, supporting only up to 10 users and 1 output channel.
Still, if you're looking for a quick and easy way to organize your product data, you may give Akeneo a chance.
But if you're tackling a complex project and you're in need of a strong system capable of handling all your data with ease - Pimcore is your go-to solution.
If you're looking for a partner to help you implement PIM and MDM systems into your organization, reach out to us and let's talk! We're experts in Pimcore development, and we're ready to help you with your business ideas anytime!
Pimcore vs. Competitors
You'd like to know how Pimcore compares to the rest of its competitors?
Here are a few comparisons you may find useful:
This guide is part of the category, read more on
Looking for Exponential Growth? Let's Get Started.