WordPress alternatives: Which CMS platform is the best?
Last updated on August 30, 2021
8 min read
WordPress is one of the most popular, if not the most popular, content management systems. It's based on PHP and MySQL, and its' features include a plugin architecture and a template system.
But… there are others!
To understand the needs of today's market, we must learn about the possibilities and choices the internet gives us.
Have you ever heard of Pimcore? Drupal? Sitecore?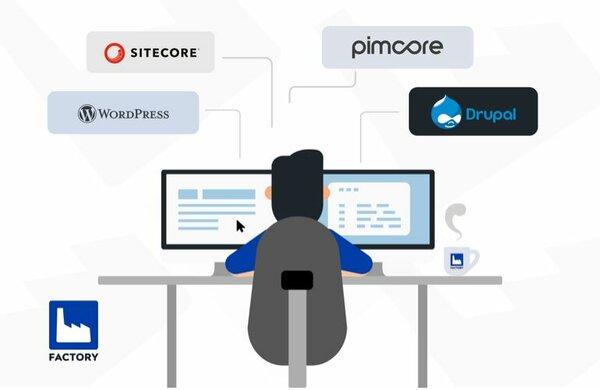 For the last several months, we have been working as a Pimcore development company and in this post, we wanted to show you the benefits of using Pimcore and other platforms as an alternative for WordPress.
In this several-minute read, you will learn about WordPress alternatives and hopefully explore and continue using some of them.
We'll compare each alternative with WordPress, and your task is to choose the winner.
So, without further ado – let's dive in!
WordPress vs. Pimcore
This comparison is crucial between Pimcore, the up-and-coming CMS (and much more), and WordPress, currently holding the throne.
Let's start from the beginning! WordPress is an ancient and very popular PHP CMS, and it doesn't use Symfony or other components. And what is Pimcore? Pimcore is an open-source digital experience platform for enterprises whose development started in 2009. It's built entirely on the Symfony framework.
It consists of 6 products – PIM, DAM, MDM, WCM (CMS), CDP, and eCommerce. Pimcore offers a connection between all these 6 featured products, but in this comparison, we will focus mainly on CMS.
Both Pimcore and WordPress are open-source and feature single-source and multi-channel publishing. They are both 100% flexible and 100% customizable, feature multi-lingual capability, and multi-site support. So far, so good.
When it comes to content personalization, Pimcore takes the win. It has pre-built features that enable extensive content personalization, whereas WordPress requires a particular set of plugins to be able to personalize content.
Pimcore is already working on the future of CMS platforms – Digital Experience Platform. It provides customers with personalized and dynamic experiences, making their website visits much more pleasant and convenient.
They both feature web-to-print magic, rich text editor, and they can both automate marketing activities. To continue, it's possible to use the content-as-a-service (CaaS) model on both of them.
When it comes to security, Pimcore takes the win.
As we mentioned, WordPress relies much on plugins for security, doesn't force SSL connections on the dashboard, and doesn't enable 2FA from the start. On the other hand, Symfony as a framework has won many awards for its security, so we're free to say that in this comparison, Pimcore takes the win.
Pimcore features a very sophisticated database, meaning that if someone got in the database, it would be too much of a complex mission for that person if he wasn't on the project from the beginning.
As Pimcore is not an out-of-the-box solution, parts of the multi-layer security are provided by the core framework itself, and other components need to be provided by the solution partner.
Talking about SEO, WordPress tends to take the lead thanks to Yoast SEO, one of the most known WordPress plugins.
On the other hand, Pimcore has its pre-built SEO dashboard, where it's possible to modify all elements of SEO without any usage of plugins. While Yoast is incredible, Pimcore still stands as one of the most significant competitors to WordPress when it comes to SEO.
Another difference between these two is that Pimcore is entirely free. It offers free product licenses for enterprise-level, while WordPress has its free and paid plans.
Rich personalization and behavioral targeting are where Pimcore really shines. Like no other CMS (and it's much more), it enables its users that kind of feature. Also, it features a framework for delivering sophisticated marketing automation applications. As it's built on the Symfony framework, it's completely flexible and something really new on the market.
When it comes to data management, again, Pimcore is the ultimate winner. Pimcore digital asset management (DAM) is on another level. It's possible to manage hundreds of thousands of different files from one single place.
Unlike any other CMS mentioned, Pimcore enables access to all data in one place. It's something that really puts it in the lead. Pimcore also unifies WCM (Web Content Management) with DAM and eCommerce – it's the only one that doesn't require third-party plugins to make sure that it's working.
WordPress isn't actually predefined for eCommerce, but with the help of several plugins and themes, it's possible to turn your WordPress site into an eCommerce store. Pimcore already features eCommerce as its core element. It's not required to use the eCommerce module on every site, but it's possible.
If you are ready to give eCommerce a shot, we advise you to check what new eCommerce trends are so you could already have a picture of what your competition is working on (or maybe they aren't). If you are aiming on starting your eCommerce app, before you do it, please take a look at the checklist we published!
Content management is something where both WordPress and Pimcore shine. WordPress is great for content management, and it's very easy to use. Installation of several plugins is needed, but still, the process of content management and creation is not too complex.
Change the whole landing page in a few minutes with Pimcore!
Source: Pimcore.com
However, Pimcore still brings something new in the sphere of content management and creation. It's possible to create content blocks, and in just a few minutes, you can change the whole landing page – which you can't do in WordPress.
Pimcore enables its users to use the drag-and-drop feature while editing and creating their content. To create some pop-up or a contact form, all you need is a few minutes of assembling the content blocks like puzzles.
On the other hand, to do this in WordPress, you need to use shortcodes.
To conclude, Pimcore comes out as the winner in this clash. It may still not have a more significant market share or some exclusive WordPress features and plugins, but it wins in every segment. Pimcore is perfect for large companies handling large quantities of data or having several departments work on a single website.
Pimcore also enables businesses to shift from content management to digital experience platforms, providing their customers with highly adaptable, targeted, and dynamic experiences.
The overabundance of data today stands as one of the most significant challenges for large companies with digital data, and for them – Pimcore is the ideal solution.
For a more detailed comparison, visit our article where we compared Pimcore vs. WordPress to find out which platform can suit your business the best!
WordPress vs. Drupal
Both of them are the most widely used CMS platforms all over the world. They are also open-source and user-friendly, and that, in a way, explains the extensive usage of both platforms.
They are fashionable and widely known throughout the web development world, meaning they both have an active user community.
When it comes to pricing, it actually depends on your goals – if they are long-term or short-term.
The initial investment in the WordPress platform is free. However, that's just for the platform. To get the website up and running, some further investments are needed, such as domain registration, hosting, any premium theme, and plugin, and added security.
The total cost depends on how much you want to customize it, but generally speaking, initial costs will be lower than with Drupal. If you don't need a highly complex website, WordPress is a likely solution.
With Drupal, the startup costs are higher than WordPress, since developing with Drupal requires more technical expertise. It's more complex than WordPress, and you will likely need to pay for a developer. Besides that, you'll have to invest in the basics like – domain registration, hosting, added security, and so on.
But, there is good news! Once you've built the "shell" of your site, scaling it and furtherly customizing won't require much additional investment. You could actually save money in the long run if you're using Drupal. So, both CMS platforms have their pros and cons when it comes to pricing, so we'll call this a tie.
Drupal and WordPress also differ when it comes to the learning curve.
WordPress is something beginners usually can pick up quickly, whereas Drupal is somewhat complicated. WordPress is incredibly intuitive and user-friendly for users with no background in web development. Additionally, WordPress's community gives users great support due to its outspread.
Drupal, on the other hand, makes getting a site up and running an extreme challenge for new developers. It's not that intuitive, and it requires much experience. When compared to WordPress, Drupal's content creation process is anything but simple.
When you try to compare WordPress and Drupal in terms of extensibility and customization, it gets a little bit more complicated. Both of them are extensively customizable and feature a great number of themes and themes, but WordPress offers much more and allows almost unlimited customizability.
With Drupal, much of the functionality needed to customize the platform is already built into the main themes – there is no need to heavily rely on third-party extensions and plugins.
When it comes to organizing large quantities of data and content, Drupal proves to be more a flexible and efficient solution. However, it often requires custom development, by that requiring the assistance of professional web developers.
From a technical perspective, both WordPress and Drupal are made to be equally secure as CMS platforms. However, due to the building process of websites and extensive customization – Drupal wins as the more secure one.
The main security problem with WordPress sites rises from the vulnerability created by uploading third-party plugins. Each time a plugin is uploaded, the site becomes vulnerable.
Drupal relies less upon third-party plugins by default, so it is less susceptible to security breaching that comes with uploading unverified third-party plugins.
Comparison between WordPress and Drupal is a tough one. Each one is great, depending on your goals.
If you're looking for a low-cost initial investment – you'll go with WordPress.
If you're looking for the fastest setup – you'll also go with WordPress.
And if you're looking for a robust and complex solution – you'll choose Drupal.
WordPress vs. Sitecore
Both Sitecore and WordPress are popular platforms, but when you need to make the decision on which CMS is the best for your organization, which comes out on top?
When it comes to pricing, WordPress is free(ish) and doesn't require a license. Nevertheless, if you want to benefit from the same capabilities as Sitecore, then you should consider forming a budget for plugins and development.
On the other hand, Sitecore is a more expensive system as its source code requires licensing fees. Also, each Sitecore instance is custom built by a team of savvy developers who are familiar with developing for the ASP.NET framework. It's a good choice for businesses that require a custom build, want the benefits of commercial source code and are willing to invest in its features.
If we talk about the difficulty of using WordPress and Sitecore, we can surely say that WordPress is much more user-friendly due to its simplicity. If businesses want a simple tool that doesn't have a high level of complex marketing features, WordPress is their choice.
Unlike WordPress, Sitecore is a bit more complex and requires its users to have a certain level of training and knowledge to get the most out of its features – including authoring, email sending, analytics, marketing automation, etc.
However, once the user completes the initial learning curve, usability and content creation and management accelerates. Hence, Sitecore is a great tool if businesses would like to educate and train themselves to get the most out of it, as it offers deep marketing and digital functionalities.
Now, security. As we already said, WordPress is vulnerable to hacking due to its various plugins and third-party extensions which, many times, are not compatible with WordPress entirely. WordPress relies heavily on plugins when it comes to security features.
Contrarily, Sitecore's .NET compiled enterprise language makes it a much safer option. It also comes with pre-built safety features and firewalls that will do a great job if security is crucial to your business, or if you collect sensitive information.
Unlike WordPress, most useful features are already integrated within Sitecore itself, and usage of plugins isn't that much needed. That said, little room is left for security vulnerability.
In conclusion, each of them is great, depending on your goals. If your website is business-critical and you're embarking on a long-term digital transformation journey – you should go with Sitecore.
If you have a smaller business without dedicated marketing and IT team, or you're a sole trader and simply want a stand-alone website that is easy and fast to get going with – you should go with WordPress.
Ultimate winner?
If you went through all the details and features mention thoroughly, by now you should already have an image in your mind when we ask who the winner is.
Each CMS has its pros and cons, and its distinctive features. Through our evaluation, Pimcore comes out as a winner when it comes to websites of greater volume – or to be more exact, larger projects involving huge quantities of data. It's also secure, easy-to-use, free, and full of unique features. Undeniable.
To provide you with more information on Pimcore, we've compared Pimcore vs. Akeneo to help you find the best PIM for your company! Check our article now and find out all the differences!
If you want to know the true potential of having a Pimcore-based business, feel free to contact us! We specialize in Pimcore development and would like to help you in your business endeavors.