Top E-commerce trends in 2019
Last updated on August 18, 2021
6 min read
E-commerce has been growing and evolving each year almost exponentially in numbers and users, and it is safe to say it will continue to do so in the coming years with an increase of AR and other technologies on the horizon. There are many reasons why your retail business needs a mobile app, to make it easier for you we collected top trends in e-commerce that will allow further growth in 2019.
Augmented and Virtual Reality in e-commerce
Augmented and virtual reality are blurring the lines between reality and the digital world, and have been more and more increasing their presence in e-commerce, especially on mobile. Mobile native apps provide perfect playground and support for AR and VR since their big handheld screens offer seamless experience when incorporated with shopping.
Numbers show 71% of shoppers would prefer to continue shopping if they were offered AR experience.

61% prefer AR shops over non-AR shops, and 40% would pay more if offered an item on Augmented Reality so they could experience it before buying.
Most prominent items for sale using AR features are:
60% Furniture

55% Clothes

35% Shoes

25% Tech
The demand for immersive Augmented Reality experiences is developing. Companies should be on their toes and take advantage of the capacities that augmented reality offers to improve their product-focused campaigns. Augmented Reality can drive shoppers to purchase commodities.
It adds accessibility and helps shoppers make more informed judgments while supplying the modern retailer with a persuasive mechanism that can allow people to see realistic portrayals of genuine products on their screens wherever they are.
Perks of Augmented Reality
Perk Number 1: With Augmented Reality, retailers can create immersive product catalogs with preview options. Online retailers that don't own brick-and-mortar stores can use AR product catalogs to overcome the disadvantage of not having a showroom.

Perk Number 2: Augmented Reality provides customizable UX content that matches user needs. In apparel, accessories, and cosmetics, brands can allow customers to try on their products virtually. Builders, designers, and architects can let customers preview an extensive selection of objects before making their final choice. Using AR, customers can see all options and make decisions more easily after they've visualized commodities.

Perk Number 3: Augmented Reality can decrease commodity return rates, saving money on returns since shoppers can choose whether they want items before purchasing.

Perk Number 4: Augmented Reality can make in-store navigation informative and straightforward so that shoppers don't get lost or disoriented. Immersive AR technology lets shoppers find what they need quickly.

Perk Number 5: Augmented Reality technology can be used to create compelling presentations for products, appealing to human emotions with exciting interactive experiences.

Perk Number 6: As far as shopping is concerned, advertisements or any simplistic picture with goods can create a story of its own if observed through AR-powered apps.
Payment options
There are a lot of payment options available out there from Google Pay, Apple Pay, Samsung Pay to coinbase wallet. And digital wallets such as those will be more prominent in 2019 since they cut down shopping time and make checkout more comfortable and safer.

Overstock is one of those companies has been selling goods for Cryptocurrency since 2014. Users can make an account and can link their coinbase wallet or bitcoin address to make a purchase.
Artificial Intelligence (AI)
Customer segmentation and identification of patterns based on their browsing history are one of the biggest challenges that an e-commerce store faces regarding automation and store personalization.

Intelligent algorithms are now hailed as the key to dealing with these challenges. Help in achieving this. According to Business Insider, retailers that have implemented personalization strategies see sales gains of 6% to 10%.
The use of AI chatbots in ecommerce is becoming more common. An ecommerce chatbot recommends products and reduces navigation time. The chatbot's search algorithm allows higher profit margin items to be shown first, and sales revenues can increase 15-35% when users engage with a chatbot.
One-click purchasing
Its common knowledge by now that long and tediously complicated checkout process can lose you more money than it can earn, and leave your shopping cart abandoned.
That's why more and more online retailers include a one-click buy in the form of instant checkout — quick and easy process that skips the "Cart" section and goes straight to the end.

It dramatically increases conversion rates and improves sales!
Snap and Shop
A new trend of image shopping is emerging; where users point their camera towards a product, they see to order it from an online store. There are many photo apps available like CamFinder and Apsos, and many more will pop up next year. This trend will also lead to selling of affiliate products through photoshopping.
Next-day delivery
How can your business compete with Amazon Prime's 2-day shipping? Offer next-day delivery. If your company is not able to fulfill orders quickly at scale, outsource shipping and fulfillment to a third-party logistics company that can accommodate fast delivery. While there are many challenges to last-mile delivery, advances in technology are helping merchants overcome them
Social Shopping
Instagram integration with your e-commerce app dramatically increases sales and discoverability, since it connects your items with millions of users from Instagram, and easily reroutes them to your app with just one tap. The same thing applies to Pinterest Facebook and others social networks out there.

And for younger demographic there's Snapchat.

Snapchat showcased its eCommerce this year with amazing results. Nike, in partnership with Shopify and Darkstore, sold out limited edition Air Jordan III Tinkers in 23 minutes. Attendees at an NBA after party got unique codes which they scanned and brought up the in-app shopping for the Air Jordans, once purchased, they received the shoes that same night.
Voice E-commerce
41% of people who own Amazon Echo or Google Home have purchased or plan to do it with voice search. It's estimated that by 2020 voice e-commerce will total 40 billion dollars.

Voice search provides easier and frictionless shopping experience so its no wonder more and more people are adopting it since all they have to do is ask. Especially now that Google and E bay have partnered to allow buying through Google Assistant App.
Here is a checklist so you can easily plan your 2019 year!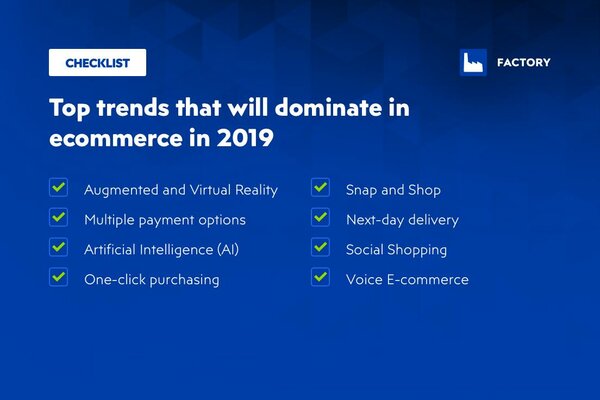 E-commerce 2019 in numbers from Meeker's 'Internet Trends 2018' Report
3.6 Billion is the latest number of people around the world with home internet access.
That's half of the population of the planet that has internet access. Not all of them buy on e-commerce, but that's still an impressive number that offers a lot of opportunities.
7%: Yearly increase rate for new internet users
Which is less than compared to a year before where growth was 12%, the internet user base has been flat in 2017, but that is a good thing which means the market is maturing, which can only bring stability to e-commerce.
16%: Yearly eCommerce increase in the US market.
While the internet user base in dropping, the e-commerce userbase is increasing, since more and more people are becoming more comfortable in buying online and feeling safer to do so. US online sales in 2017 were 450 billion which is 390 billion more than 2016. Which means more and more users are converting their purchasing potential online if compared to a decreased internet adoption rate.
6 of 10 is the time someone chose digital purchase over standard
Which means only 4 out of 10 purchases were made using standard payment options, which is a big leap from previous years.
Here are the numbers showing the percentages using digital payment:
Other Online Channel: 15%

Buy Button: 9%

Mobile Payment App: 8%

P2P Transfer: 7%

Mobile Messenger Apps: 7%

Other In-App Payments: 4%

QR Codes: 4%

Smart Home Device: 3%

Wearables: 2%

Other: 1%
13%: eCommerce as a portion of entire retail transactions in the world
E-commerce represented 13% of all use sales in 2017, which puts it at 648 billion dollars out of 4.99 trillion in total. This is a significant growth if you take into account that e-commerce sales in 2007 were only 5%. Since then online retailer market tripled in the last decade.
55% of all customers purchased an item after finding it on social apps.
This number speaks to the overall power of social media marketing and the influence at the "detection" phase of the shopping cycle. Over 50% of customers purchase a product following the discovery on social media, but only about 1/5 of those customers purchased the item at the time they discovered it; the remaining 4/5 of buyers returned to obtain it at a later time.

That shows the staying potential of social media discoveries. But to get the most leverage from this, you'll need to create an authoritative, compelling content that occupies people, keeping your product at the vanguard of shoppers' minds and strengthening the desire to purchase.
All these technologies are mostly available on the mobile platform, which is no surprise since the mobile platform is becoming dominant in e-commerce with its native easy checkout and no card payments.
Native mobile usage in e-commerce rises 6% every year and it will increase in 2019, so its imperative to have a good mobile app for your store above all else. Since it has been statistically proven that every 0.1-second delay on mobile cost retailers about 1% profit.

Shoppers may find your store online on the desktop or responsive mobile but they will purchase while using an app rather than risking payment frauds.

So whatever route you take to improve your online store, make sure it's e-commerce app first, it's faster, easier and offers better user experience for customers, and that's the most important thing, making sure your customers are satisfied.

Thank you for reading, hope it will come in useful!