Our honest opinion about the Interaction Design Foundation
Last updated on June 23, 2022
7 min read
Here in Factory, we always strive to be up to date with all the newest trends in our field, which means our education never stops. This time, our designers successfully completed a few courses at The Interaction Design Foundation. Our Matea took her time to write an honest review about the whole experience and gained knowledge, so keep reading and find out is it worth it.
What is The Interaction Design Foundation?
The Interaction Design Foundation is a subscription-based learning website based in Denmark. Their mission statement is "To improve your career," and they have been steadily doing that by providing a variety of courses that teach you concrete design skills since 2002. With over 130,000 graduates, it's the most extensive online design school.
Besides regular courses, they also offer Masterclasses and Bootcamps — which require an additional fee. Masterclasses come in the form of webinars, and you can choose to watch the live ones or view a recording for $5 if you're a member instead of the regular $50. Bootcamps last 12 weeks (including one week of Orientation and one week of break) and cost $2,800, which is the most you'll pay for an education on this website.
Compared to other online schools such as the CareerFoundry or Flatiron school, which offer courses for a lot more (starting from $8,000 up to $16,900), IxDF seems to pride itself on delivering quality education for a fraction of that price.
Why did I decide to hop on the Accessibility Design Course?
Interaction design foundation first showed up on my radar when my design colleagues started showing off their certificates on LinkedIn. "What is this?" I asked. "This seems like a big deal," I said. My feed was overflowing with IxDF "best in class" diplomas, and I was curious about what was so great about this Interaction Design Foundation since everybody posted about it. It is only logical that the Factory's design team decided to hop on the IxDF bandwagon and enroll in a couple of courses to see what this fuss is all about. Okay, okay, I admit, we also wanted to show off our certificates on LinkedIn. :)
Although their courses are divided into three categories: Beginner, Intermediate and Advanced, it seems that most of them are aimed at entry-level designers. We opted for the intermediate-range since the beginner levels seemed a bit too basic for us.
We enrolled in Accessibility: How to Design for All, Dynamic User Experience: Design and Usability, and Get Your Product Used: Adoption and Appropriation.
Keep reading and find out the pros and cons of the mentioned courses.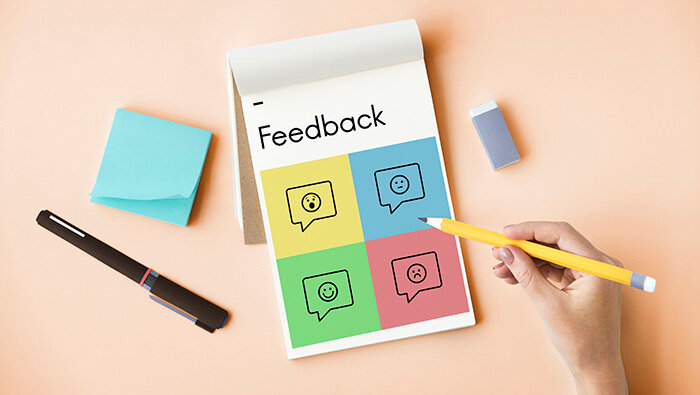 Overall pros of the IxDF design courses
Before I look back at the advantages and disadvantages of the specific courses we've enrolled in, here is my opinion on the good side of the overall experience.
Courses are self-paced
Each lesson is available after a certain time, which is positive, so you don't feel overwhelmed. Some lessons are short, while others are extremely long. How to go about this? Our design team decided to commit to a certain amount of time each week and do that no matter what. Each module has a time guide indicated as "Estimated time to complete," so we used it to set a goal for every week.
References at the end of the lesson are optional, but I do recommend reading at least part of them. They really add depth to the general text and are a good source of information about other UX-related topics.
The structure is good
Lessons are divided into logical groups in the Lessons navigator, with sub-lessons or "chunks" to make them even more manageable. Some of the courses are really thorough — giving you a solid foundation and understanding of the subject (such as the Accessibility one).
The lessons are a combination of text and video (with transcript), with multiple choice and/or essay questions at the end of each one. You get scores by answering correctly, and at the end, you can earn a "Best in Class" distinction if you have over 90% of the correct answers.
The multichoice questions, worth 3 points, are not always straightforward — You have to think about the answer for a bit — but ultimately, they help you solidify your understanding of the subject.
The essay ones are a bit tougher since the answers are not provided within the lesson, and you have to think of your own arguments and examples. They're graded by a teacher and are worth 20 points — it can take up to 2 weeks for them to be reviewed, but it's worth it if you're after that Best in class distinction.
A room for improvement
Let's not sugarcoat things because this is, after all, an honest review. Here are some of the cons that I've detected:
Website structure
While the website is not hard to navigate since there isn't too much content, my peeve with IxDF was that things I was looking for were not immediately available. Clicking on the UX courses in the main navigation will lead you to the course page, but first you have to scroll through their recommended courses, then your OWN courses, and then you can view which other courses are available.
It's the same with the Community page, where I had to go through Bootcamp and Masterclasses ads to get to the forum section. Oh, and your certificates are hidden at the bottom of the page.
Lack of positive feedback
Your essay answers are reviewed by a teacher, and it may take up to two weeks to get that feedback. But when it does show up, you will probably get a "good job!" or "I like your point." That is not the sort of feedback that helps you improve or leads to a helpful discussion where you can learn something from the seasoned professional (which all of the teachers are).
Instead of the essay-type question, there could be more multiple-choice ones. At least that way, you wouldn't have to wait two weeks for your score. At this point, I feel like there isn't any effort on their part, and they hand out points regardless of the arguments presented in the essay.
Courses feel outdated
Some of the courses feel outdated and not relevant anymore, usually those that have to do with technology and software use. Literature, which offers IxDF books, feels the same, with some books featuring design examples from 1996.
Another thing that could be improved is not changing the content as often. When I was a beginner, I wanted to get my hands on every single thing there was to learn about UX: Courses, literature, articles, etc. I also feasted my eyes daily on fancy Dribbble designs. I'm what the gamers call a completionist — the one who goes through every nook and cranny. Ordinary folk may call me a perfectionist.
Then, shortly after I started, I found out UX is a massive, massive field and covering everything in a single knowledge run was not possible. It still isn't. So for me, constantly making changes to your content means not creating a steady learning curve. Many courses feel very similar but different enough to create an infinite loop of the same subject.
First Course Review — Accessibility: How to design for all
On their website, IxDF describes that the course is made "for UX designers, UX researchers and visual designers who want to learn about accessibility." It consists of video lessons with many additional materials (web sources, tools, and pages) for those who want to know more. This particular course was really interesting and helpful.
The teacher was great. He was professional, knowledgeable, and dedicated to his teaching. The lessons were grouped into logical sections and were dynamic and interesting. The examples presented were the ones the teacher himself encountered during his work, and they provide a useful source of information since they represent real-life situations.
In some of the lectures, guests were people with disabilities, and they talked about their experiences with digital products. Some lessons showed usability testing where we could see how a blind person uses assistive technology, navigates the websites and apps and follows through with tasks.
The most significant value of this course comes from the teacher's knowledge — who was passionate about and dedicated to this subject.
Values provided by this course:
The importance of accessible design

How an actual disabled person uses a product designed for accessibility

Room to grow and learn new skills because the accessible design is connected with usability, and there are a lot of ways to design something to be useful, usable, and used

A motivation to create even better designs using WCAG directions

A desire to improve our designs by collaborating with developers on a larger scale
Negative sides
Since English is not my native language, the lectures should be exempt from jargon or idioms because they make it harder to understand what the teacher is trying to say

The multichoice answers provided at the end are sometimes ambiguous and too similar to each other, which doesn't help solidify your knowledge; somewhat, it confuses you

Another problem I had with those answers is that the answer itself was not clearly stated in the lesson; instead, I had to read between the lines and guess what the teacher wanted to say rather than be given precise information.
Second Course Review — Get your product used: Adoption and Appropriation
The course description states you will learn how to manage a product's path of use — from the introduction to the market and onwards. You will also learn to encourage potential customers to adopt products by specifically designing for adoption, designing for the appropriation to increase the potential customer base, and evaluating and improving the adoption and appropriation potential of existing products and user interfaces.
Once again, this course is a mix of text and videos. It starts with an introduction to terms regarding adoption, appropriation, and their relevance to design. Later it goes into depth about the product's lifecycle and how human behavior influences customer decision making. The last lesson is about designing for appropriation, with guidelines and examples.
Values provided by this course:
You learn the difference between usability and usefulness (which are not the same) and are provided with examples to understand both concepts

Knowledge of the entire product lifecycle gives you an overview of how the market works

Understanding of the customer base and how and when to conduct user research and/or usability testing

Understanding of human behavior and how it influences decision making and how it relates to design

Why we appropriate products
Negative sides
It seems like the entire course is very generalized, with no clear guidelines for UX designers on how to design for adoption and appropriation

There is a lot of mention of user research regarding different user types, but the course doesn't go into depth on that particular subject

There is a lot of talk about the market and marketing activities for which other roles are more suitable for (e.g., marketing specialist, business analyst, etc.), making that knowledge not as useful

Outdated examples of appropriation

Confusing, ambiguous answers
Overall, this course did not provide as much value as I had hoped. My opinion is that it missed the mark. Being an intermediate level, I thought it would give a more detailed insight into how to approach designing products for adoption and appropriation. Instead, I got a summary of the already free articles available on their website.
Let's wrap this up
The IxDF is an affordable way to get a solid foundation that is easy to understand, but you will need to deep dive into other sources: Books, articles, other courses, webinars, etc. While earning your certification might give you a confidence boost, it's also important to practice your practical and soft skills. The latter is very important in our field of work because we need to find a way to empathize with users in order to create useful and successful solutions.

There are many good sources to start learning and updating your UX design knowledge. We at Factory try to stay on top of the relevant topics and share basic knowledge, such as prototyping and usability testing, which is indispensable for any type of design. There is always something new to learn. And remember, the theory is great, but soft skills are an essential part of the UX design process. Listening to your users will make for a better experience, help create connections and build empathy between your product and audience.