Factory Rebranding - A refreshed look for the new era of our business
Last updated on March 31, 2023
3 min read
Last year we celebrated ten years of our successful business and used that opportunity to remind ourselves where we were, what we achieved, and define where we are going. During all those years, we have evolved and upgraded in every area, so we decided that now is the right time to reflect all those changes into our brand.
After nine months of committed work, we did it — the rebranding process is finished! In cooperation with Studio Size, we developed a new visual identity that reflects new energy and our focus on developing the best solutions for our client's specific and complex challenges.
With this evolution of the Factory brand, we want to communicate the breadth of our expertise better and align it with the company's redefined focus and vision, respecting our authenticity and desire for maximum transparency. Also, we want to encourage cohesion among employees, connect them with the brand, and maintain consistency in communication and materials.
The story behind our new logotype
We are entering a new era of our business with a new logotype inspired by Data Stacking — the symbol for the server — interpreted through the modernist letter F, which has a 3D structure and is associated with progression. The primary goal was to create a unique sign within the modernist style that would match the brand's character and leave the desired impression through the other visual identity elements.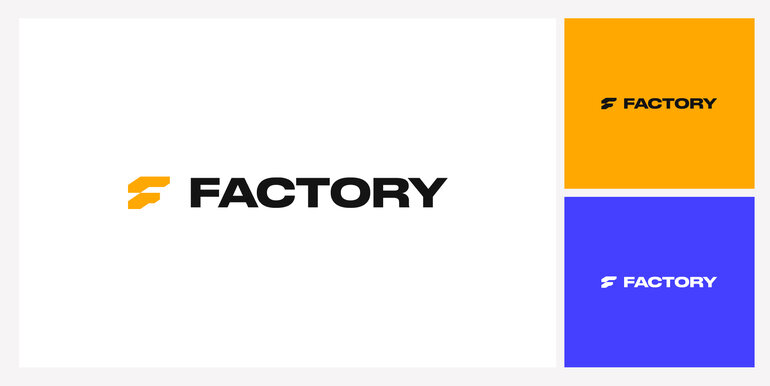 Now, here is the story behind our new slogan.
A slogan that reflects our values: Power to Empower
Of course, we wanted our slogan to sound good, but the most important thing for us was that it should reflect our values, be inspiring & easy to remember, and trigger a positive emotion when in contact with our brand. The slogan Power to empower is our promise to clients that by cooperating with us, they will get a reliable partner who will create the best possible business solution for them — the one that will be adapted to their business needs and enable them to eliminate unstructured data, complex and complicated processes, and additional costs.
Internally, Power to empower reflects our aspiration that even though we are a remote-first company, we simultaneously ensure that all our employees have the best possible support for career development and are transparently and timely involved in the company's operations.
The values ​​we live by
When it comes to values, it was essential for us to define the ones we live by every day, and we succeeded in that. So, here are our (new) values:
Transparent, Inclusive
Work-Life balance
Freedom, 100% remote
Self-reflect, learn & improve
Learn, Grow
Support, Empower
From the values mentioned above, we have created the Philosophy of our company, with the aim that it should be inspiring, that it encourages us all to give our best in every project & task and thus improve the business of our clients, our development as individuals, and as a company.
"Our job is to make everyone's work better.
Challenging, rewarding and fully transparent.
Where knowledge is power, balance is the key,
and you are where you want to be.
To unlock this potential we must reflect,
Learn and improve, by working together
and empowering each other".
The new era of Factory starts now
The old visual identity represented us for ten years and marked all our successes and achievements. Now, this rebranding marks a new milestone for our company, and we are eagerly looking into the future, fully prepared to embrace everything ahead of us. Side by side with our new colors, logo, and slogan, but with the same motivation and commitment we have had since the first day of our business. We are ready to share the Power to empower!