iOS and Android Development for the bestselling newspaper in BiH
Catch up on all the news in BiH using a brand-new Avaz.ba mobile app! Enjoy a fast, intuitive, and user-friendly mobile experience!
The Challenge
- Slow and unstable application
- Outdated mobile app
- Bad user engagement
To fix problems with stability and speed of the app, we developed the applications in programming languages Kotlin and Swift. We also used the latest technologies and growth-driven design methodology. In that way, we ensure better user engagement. The app is now faster, intuitive and refined. Ads were a big challenge for our client – the client needs to have them but also it needs to be user-friendly and does not interrupt the visibility of great content from our client. To fix this problem, we organized and natively selected ads in the iOS and Android application for Avaz.ba.
Intuitive and Modern Design for Better User Experience
Because it was of outdated design and a hybrid application, we needed to design brand new materials for both an iOS and Android application. With features like a favorites list, swipeable categories and easy navigation, we ensured better user engagement. The hybrid application had problems with ads, so we needed to come up with a solution that works for both our client and the readers of Avaz.ba news. The hybrid app was slow and unstable, and users did not prefer using it because it would often crash or suddenly slow down. Through the latest technology and work methodology, we have provided a faster application with a modern design.
Subscription to Tags
In this fast-paced world, we like to read only those things we are interested in. With that thought in mind, we saw an excellent opportunity to build the feature "Subscription to Tags." Users choose what topics they want to follow and they will be notified about all news about their tagged topics. They just need to click on the tag to add it, and that's all.
Favorites List
Without much searching, users can save articles they like and read it when they want. It's an excellent feature when readers are not able to read the news as soon as it's published. Furthermore, if we find a great article that we want to read again and again, it's nice to have it available all the time.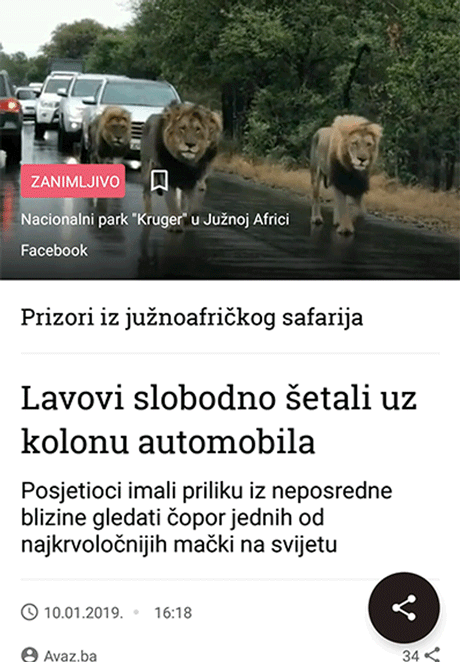 Great Statistics
In just over two months since our native apps have gone live, the number of downloads on Android app had increased by 7% compared to the previous hybrid version, and by 11% on iOS devices. There are new 18,000 downloads in less than two months, both on Android and iOS downloads. This is thanks to the native application where our client invested in better user experience and switched from hybrid mobile app to iOS and Android application.
Technologies
Android studio Swift User experience User interface
Try it out!
Download the Avaz.ba mobile for Android and iOS mobile devices!